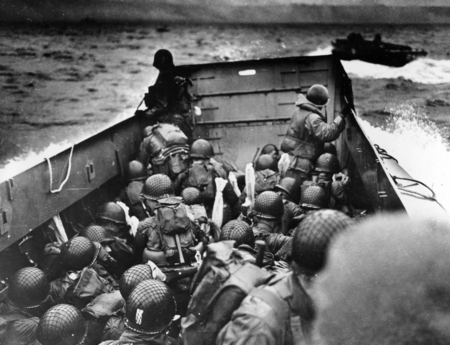 Via Tod Worner:
"When I think of the beaches of Normandy choked with the flowers of American and British youth and when, in my mind's eye I see the tides running red with blood, I have my doubts, Ike. I have my doubts."

- British Prime Minister Winston Churchill to Supreme Allied Commander Dwight Eisenhower on the eve of D-Day

It is hard to imagine these words were ever uttered by the jowly, defiant, cigar-champing lion of resistance, Winston Churchill. But they were. And who could blame him? The ruthless Nazi juggernaut which dominated the majority of Europe in less than one year had fortified its French and Mediterranean coasts. A multi-front war (Western European/North African front, Eastern European/Soviet front and Pacific theater) was being waged with an odd alliance of countries led by a conservative aristocrat, an idealistic liberal and a despotic communist. An enterprise of unparalleled ambition, unmatched resources and uncertain outcome aiming to cross the English channel and liberate Europe was being undertaken. And if that weren't enough, there might be bad weather. It led Churchill to anxiously approach his wife as they were retiring the night of the invasion and ask,

"Do you realize that by the time you wake up in the morning 20,000 men may have been killed?" 

She could offer no answer.
Please read the rest.  God bless and rest those who served and sacrificed for the rest of us on that day 70 years ago today.