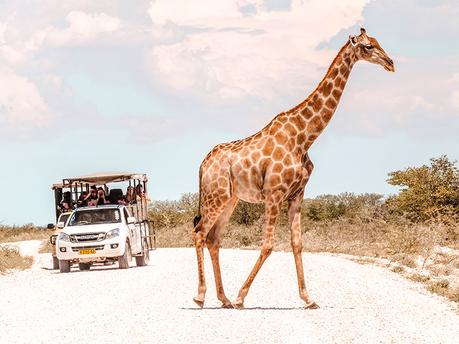 Namibia is home to a wide range of beautiful landscapes. Etosha National Park is a must-see if you're curious about the dusty desert or simply hoping to catch a glimpse of the natural wildlife.
It's certainly one of the best places to visit in Namibia. So, you're probably planning your trip and trying to fill your itinerary with a plethora of exciting activities that will keep you and the kids sufficiently entertained. Etosha, Namibia, is a beautiful place for adventure, with wonderful views of wildlife and a unique and diverse biome.
Not only will this trip have a load of fun stuff to do, but there are also a ton of teachable moments embedded in your experience. What's the point of family trips if it doesn't also enrich your kids' knowledge base right?
Well, there are a couple of ways that you can do this. If you're tight on time and don't feel like spending too much time on your itinerary, there are tours available that make the job easier.
But, if you're looking for an Etosha National Park self-drive guide, then this is exactly the post for you.
Keep reading to learn more about where to go, where to sleep, what to do, and everything else in between.
Where Is Etosha National Park
When you're traveling Namibia with kids, you'd like to be sure of your geography. It will also help you better answer those "are we there yet?" series of questions.
A map of Etosha National Park would definitely be a wise addition to your basic car essentials, especially if you're there to see specific animals. But, for the most part, while you're there, you'll want to be guided by the things you see.
So, if there are a ton of cars in one location, it's best to join in and search for the main attraction or keep an eye out for animal droppings as you go along.
Etosha National Park is a protected area north of Windhoek, the capital city. It will take around three hours to drive from Windhoek to Etosha. You'll probably have to head to places like Okakuejo, Ombika, Halali, or Namutoni and Onguma if you're planning on staying there.
When To Go
Etosha is pretty spectacular, regardless of who is watching. But, there are some clear guidelines as to when it will be the most comfortable for us mere mortals.
Especially since you'd like to avoid the risk of malaria, and you're probably hoping for the best views of your favorite animals.
Many people swear to go in the winter months. From June to September, you can expect wonderfully warm (but not too hot) temperatures during the day and a lot less rainfall than you'd anticipate for winter.
This does, however, make your wildlife wonders all the more exciting and visible. The grass tends to be a little bit shorter, trees are a bit barer, and you can see a lot more happening between the stark bushes.
The only downside is that the winter months are also the peak season in Namibia. The weather is cool enough for mosquitos to have made a home elsewhere, and the animal sightings are clearer, which means more humans.
For this reason, some people also prefer to head to Namibia during the shoulder seasons. The Namibian climate allows for beautiful weather right through the year. Expect buckets of rain in January, with June being the coldest month of the year.
The best time to visit is in October when you have the hottest days and all of the animals flock to the watering holes.
How To Get To Etosha
There are a couple of ways that you can get to Etosha with your band of merry family members.
You'll most likely have to fly internationally and end up somewhere in Windhoek or Walvis Bay. Nonetheless, both are amazing places to be in before your official safari journey begins.
From Windhoek, there aren't any buses or trains available. So, you'll have to rent a car and begin the three-hour and 55-minute journey along with the B1 and C38 roads.
It may feel like you're traveling through nothingness for quite some time, so be sure to pack in your best car games and a ton of snacks.
If you end up in Walvis Bay instead, your drive time is considerably longer, but you have more options. You can choose to continue along a similar path and head straight on the B2 and C33 or take a more scenic route along the coast via the C35.
This will take around six hours, so plan accordingly.
Self Drive vs. Guided Safaris
As far as safaris go from the south of Africa to the north, the question has and will always be - should we drive ourselves or book a guided tour?
Well, touring Etosha Pan is much better with a planned self-drive tour. It allows you enough time to get out and stretch your legs, take pictures or stop and grab something to eat.
On the other hand, you may not be as clued up on how to track animals, so you may end up missing a great sighting or two.
Nevertheless, there are pros and cons to each. A guided tour may work out cheaper since it's a once-off purchase for the whole family and certain places offer amazing discounts.
You'll be equipped with a trusty guide that can help with tracking and animal sightings and can answer any questions you may have. It also frees up everyone's eyes, so it could be a great way to give the hubby/wife a break from driving.
Click here to book your tour of Etosha National Park.
Some tours are all-inclusive and cover three to five days' worth of African safari. This makes your job just that much easier since you'll have less of an itinerary to plan.
If you're strapped for time or would like to relieve some of your planning stress, then one of those tours may be best.
Click here to book your three-day Etosha tour.
A guided tour may not be for everybody, though. A self-drive tour could work out better as you'll have the opportunity to create your own schedule. Keep reading for a few tips on how to make your self-drive journey a little bit easier.
Driving Tips For Self-Guide Safari
First and foremost, grab your map of Etosha National Park and plan your preferred route around the park.
This will allow you to optimize your coverage of the park and also help you plot and plan when to break for something to eat and the like.
Now, let's get down to the tips:
Most parks know which animals they have, and some have named their animals. Check-in at the office for any updates on sightings before planning your trip.
Do not play loud music; switch off any radio, cellphone, or otherwise. It will chase animals off in a different direction. Loud noises can scare the animals.
The point of a safari is to be as unseen by the animals as humanly possible. Do not get out of your car and attempt to stroke the lion. Also, keep any dirt and things inside the vehicle until it is safe to dispose of them.
Drive slowly and cruise around the park. Keep an eye out where other cars are standing, as this usually indicates something happening there.
Pack in some light and easy-to-manage food. Think picnic in the car style food. This will help you save on time and money.
Dress in layers as the weather can change throughout the day. Keep your favorite pair of gloves or scarf nearby, just in case. Oh, also add your favorite sunglasses.
Learn the basic tracks and droppings. While game viewing is all about chance, figuring out who a giant ball of dung belongs to could increase your chances of tracking and seeing that animal. It's also a fun game for the kids to play when you're having a slow day.
Choose your vehicle wisely. Pick a tried and trusted 4×4 or something easy for you to drive and maneuver since you're not always going to be traveling on perfectly tarred roads. Also, ensure that you've fuelled up beforehand.
Stick to the waterholes when you're tired of cruising. This is where most animals will be, so if you're feeling like taking a break, these are the better places to stop.
Best Time Of The Day To See Animals
Usually, the best time of day to see animals is in the morning or in the evening. Early in the day, many animals head off to the watering holes to start their day. They end their days in a similar fashion.
You can also expect quite a bit of activity during lunchtime, but it will most probably be more intriguing on a hotter day. Most animals love to lie under the African sun and munch away at whatever they find.
This means slightly less activity for you to see, so your best bet is when they're on their way for a sip of water. For that reason, it's a good idea to ask around and see where most of the watering holes are.
Etosha National Park Accommodation
Accommodation is possibly the trickiest part of your trip. Finding comfortable, convenient, and close-by accommodation can prove challenging. Luckily, the park has some amazing specials every once in a while, so be sure to keep an eye on their website.
Let's have a look at some accommodation options in and around Etosha National Park
Staying Inside vs. Outside the Park
An Etosha safari camp is probably one of the best ways to truly experience this park. You can choose between Halali, Namutoni, Okaukuejo, and Olifantsrus campsites.
Some places offer wonderful chalet options while others are plain and simple camping facilities. You'll most likely find everything you need right in the park, so there is no need not to spend a few nights here as well.
If you do feel like one day is enough and you'd like to explore accommodation options outside of the park, there are a few lodges and beautiful B&Bs that you can choose from.
This means that you'll probably have to wake up earlier in order to enter the gates as soon as they open, but you will experience another level of comfort that they just don't offer in the heart of Etosha.
Where To Stay
The camping places in Etosha National Park are all located near the watering holes in the park. Halali camp is one of the favorites as patrons can choose between family chalets, camping grounds, and double rooms while still staying close to Batia, Charitsaub, Goals, and Helio watering holes.
Okaukuejo campsite is another favorite as it encompasses bed and breakfast, camping, and even offers guided game drives in the morning, afternoon, and night.
The camp's waterholes are also lit at night so that you can spot the brave creatures wandering in from the darkness.
You can also choose lodges like the Toshari Lodge in Okaukuejo, where you can expect beautiful rooms, wonderfully decorated interiors, and head-to-toe luxury. Click here to book a stay at Toshari Lodge.
More family-friendly options include places like Mushara Bush Camp in Namutoni, where luxury also includes a children's playground. Click here to book a stay at Mushara Bush Camp.
FAQs: Tips For An Easy Stay
Here are some frequently asked questions for you to squizz through in case we haven't answered any of your questions above.
How Many Days Do You Need in Etosha National Park?
It's best to spend around three to four days in Namibia Wildlife Resorts ' Etosha. The park is a lovely place to come and explore. While you're here, you'll see unlikely combinations of animals living harmoniously, cooling off at the waterholes.
Thanks to the warm weather and lack of rain in the dry season, even the animals show you just a little bit of humanity.
Do I Need To Worry About Malaria?
If you're going in the winter season, you won't have to contend with too much buzzing about. This means that there's less possibility of catching malaria.
Although, some countries do have specific guidelines on this and would advise that you prepare your body by taking medication before, during, and after your trip just to be safe.
What Is The Gate Times?
It's best to enter the park as early as possible for the best sights of the predatory game like lions. There are around five gates that you can choose to enter from, depending on where you're coming from. The gates open and close depending on the season as well.
You can expect an earlier start in December from 6:10 to 6:55 in September, while it will close anywhere from 19:35 to 18:50 respectively.
What Should I Pack?
Be sure to pack everything you will need somewhere in your car for easy access. You won't be able to get out of your car while you're driving and can only stretch your legs at designated spots.
For this reason, you'll want to ensure that you've got some snacks, warm clothing for when the weather changes, and sunglasses and sunscreen on hotter days. You may also want to keep some compact binoculars on hand and a map from the information center.
How Far In Advance Should I Book?
Since it is highly advisable to enjoy this part of the world during the peak season, you may want to book your accommodation a full year in advance.
Prices can increase closer to the actual date of your journey. So, while you can rely on last-minute bookings in some parts, it's unlikely that you'll find good, quality accommodation within a month of your trip. Give yourself at least three months to confirm bookings.
Is There A Daily Conservation Fee?
Yes. If you've chosen a camp within the park, your fees will vary from year to year, season to season. If you're only visiting for the day, you can expect to pay an entrance fee of around $80 NAD ($5.37 USD) plus $10 NAD ($0.67 USD) for your vehicle as well.
Where Can I Get Groceries, Snacks Etc?
The campsites are equipped with just about everything you'll need, from restaurants to shops and bars. You can get everything you need around any of the six major campsites.
Availability To Fuel
For peace of mind, it is advisable to refuel before entering the park as well. Although, there are some gas stations in and around for your convenience. You can find a gas station in Namutoni as well.
Final Say On Your Etosha Park Self Drive Guide
Finding time to explore the Etosha National Park is really a special thing. Thanks to the white open salt pan and dry spells, it's a unique safari. It truly is worth the time and effort it takes to plan an amazing day or three out in the plains.
Remember to pack a few light snacks, grab something warm on your way out and ensure that everything you need is close by. Plan your route in the morning after checking for any vital information on animal sightings and prepare for a wonderful adventure with kids in one of the greatest places Namibia has to offer.