Your questions answered in this video:
0.10 I've moved from city to country and recently retired, how do I look stylish not scruffy but still casual enough so I don't make others feel uncomfortable?
10.22 How do you determine the undertone of greys and taupes?
12.40 I'm struggling to find my style now that I've retired and no longer need a work wardrobe and it also needs a purge
Casual Style
6 Things to Look for When Choosing Dresses and Skirts for Relaxed and Casual Environments
8 Ways to Look Stylish in a Casual Environment when Jeans are Not Your Thing
How to Smarten Up Your Super Casual Clothes
Undertone of Greys
Shades of Grey - How to Pick the Right Grey
50 Shades of Grey (and how to wear them)
The Right Wardrobe
Before You Throw It All Out for a Minimalist Wardrobe Read This
Tips for Building a Functional and Fabulous Wardrobe
How to Create An Ordered Wardrobe (and why you want one)
In this Video
0.09 I love the look of a kimono - how can an 8 Shape wear this?
1.41 How do I look glamorous in summer when I'm at home when I'm not wearing shorts and tees that make me feel sloppy
3.32 How do I have a wardrobe full of outfits that are fine for work at home, but that I don't need a complete change of clothes when I go into town for meetings?

Kimono Style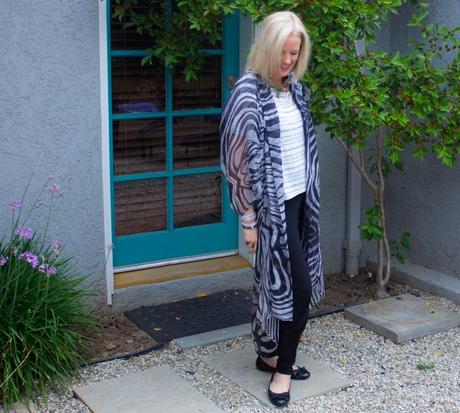 The Fashion Trend Item That Works for Every Woman
How to Train Your Eye To Create Stylish Outfits
Explore the Kimono: Kyoto to Catwalk Exhibition at the V&A
Summer Casual Style
15 Summer Style Outfit Ideas to Steal
Spring and Summer Looks for High Value Contrast
3 Easy Ways to Add Interest to Your Summer Outfits When It's Too Hot to Add Layers
Dress up and Down for Business and Working from Home
Dressing Up Your Casual Clothing
How to Make a Classic Garment Suit a Casual Lifestyle
Wardrobe Capsules for Your Life - Casual Business
In this video
0.08 How do I make new outfits from my existing wardrobe? I always end up wearing the same outfits over and over again
10.39 What to wear when your works style has to be very different from your personal style?
15.00 How to get the proportions right between top and bottom when wearing shorts and a top in summer?
Creating Outfits
7 Steps to Creating Your Fabulous Fashion Formula
Bored with Your Style? 5 Solutions to Have You Looking and Feeling Great Again
Personal Style
Dress Codes and Your Work Culture
What to Wear When You Work in a Corporate Environment But Prefer a Relaxed Dressing Style
How to Look Smart When You Prefer to Dress Relaxed
How to Break Your Style Rules Like a Pro
Shorts
5 Simple Tips for Choosing a Flattering Pair of Shorts
How to Find Your Ideal Skirt or Dress Hem Length
Your 12 Point Plan to Creating Harmonious Outfits
In this Video
0.11 Are peep-toe shoes ok to wear with blazers?
1.20 How to accessorize tee and jeans to make them more interesting
6.02 I have no idea what looks good on me? Tee and Jeans are comfortable but how do I make them look good?
Peep Toe Shoes
Open Toes and Hosiery - Should You or Shouldn't You?
8 Ways to Style a Suit Blazer In and Out of the Office
Accessorizing Your Casual Outfits
How to Choose a Necklace to Work with Your Neckline
How to Choose Necklaces to Work with Your Neckline
How to Accessorize with Hats, Scarves and Gloves
Stylish Jeans Outfits
How to Choose Jeans Styles to Flatter Your Hips
How to Choose The Right Jeans and Styling Them Smart Casual
Time to define your personal style? Get the answers to your style and colour questions? Discover all this and so much more in my 7 Steps to Style program!
Subscribe to my Podcast
You can now get these videos as podcasts subscribe and never miss an episode
Apple Podcasts
Google Play
Send Me Your Colour and Style Questions
Please do email me your colour and style questions to answer on upcoming videos!