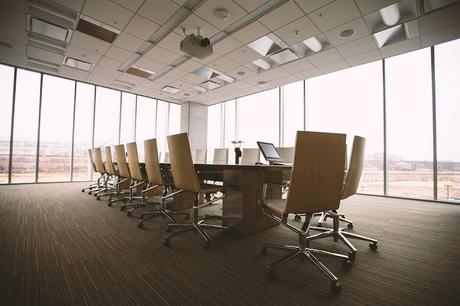 A conference room (image via Pixabay.com)
When it comes to moving your business forward, often a great move to make is to stop working from home and find the right business location to help your business thrive. However, it isn't as simple as finding the right place, putting your name on it and start trading. It needs to
work for you
in other aspects as well.
Your business location needs to be functional and also help your business thrive. So how do you achieve that?
Here's how you can do it.
The best location for your office?
Many businesses start at home, and this can offer great flexibility when it comes to time management and working arrangements. However, once your business takes off, you can end up really taking over your home so you begin the journey of finding the right
business premises
for you. Taking into account costs and overheads that your business is now going to incur thanks to the lease and rent.
A look online and deciding on factors such as the location, access for people as well as being easy to find will all be factored in to help you make the right decision. 

Does it make the right impression for clients and customers?
When it comes to your business premises, you need to ensure that it will make the right impression for your customers and clients. After all, it is a place where should be able to conduct business professionally. However, it also needs to be a place that suits your requirements. You will be spending a big chunk of your time there. So you need to feel comfortable in the environment and make sure that you can make your phone calls, answer your emails and conduct the business the way that you want to. If you are inviting people to your office, you also need to ensure that you can meet the requirements of those people. Offering washroom facilities as well as a place for you to make refreshments like tea and coffee or offering water. It also needs to have some decor elements to be an inviting place to be such as a
heavy contract carpet
that looks good as well as being durable and also things like furniture, office equipment and chairs.
These are all the necessities to make someone feel comfortable in their environment and therefore enable you to get on with the task in hand. 
Does it have good communication signals?
These days many businesses are based around the internet and being able to communicate. We are now in the world of modern technology where we rely on phone and 4G signal and internet access at all times. So when you find that you have found a good location it may be wise to ensure that the signals in the area are good. That means a decent WiFi link up, a good signal for your phone and access on your phone. 
Let's hope these tips help you find the right business location and premises to help your business thrive.