At 1928 we appreciate and design for women of all ages and styles. Whether you prefer a more hip, modern bohemian style or a classic, elegant look- we've got you covered. Fashion tends to separate and categorize when it comes to age- what is deemed appropriate for one age group may look much too revealing for someone younger or older. I always appreciate celebrities who walk that fine line between looking age appropriate, and either too mature or too childish. Finding a chic look that speaks for your age and style is difficult in a world of high glamour and racy fashions.

Young Hollywood Fashionistas: Age Appropriate and Chic! From left to right: Elizabeth Olsen, Lucy Hale, Taylor Swift, Emma Roberts, Chloe Moretz, Willow Smith (all 22 or younger)
That being said, I find it quite funny (yet spectacular) that some of my favorite teenage red carpet starlets are now being asked to be the brand ambassadors for different high-end fashion labels. Not only are they dressed by these fashion houses for red carpets and events, but they are modeling and starring in campaigns that are seen around the globe! But the question is, why use these young celebrities with plenty of years of fame to come to sell clothing to a much more mature audience who can actually afford to purchase the clothing being advertised?
The fact of the matter is these young actresses have wooed designers with their charismatic charm and keen eyes for fashion, making them the face and personality behind the brand, not just the model. It is their young spirits that make them muses of whimsical, flirty and youthful looks, and their premature womanhood (growing up in Hollywood will do that to you!) that allows them to carry off designs intended for women older than they are. All in all, it takes a pretty special girl to pull this off, and right now we are seeing quite a few of these one in a million young ladies.
Here we will break down the top five young starlets who are almost as likely to jump into the world of fashion as they are entertainment based on their body of work thus far in life. Seeing as they are almost all 18 years old or younger, I think these are ones to keep your eye on!
#5- Selena Gomez
While she may not be the brand ambassador (yet) for Dolce & Gabanna, Selena Gomez has been showing off her mature side in runway look after runway look from the famous Italian label. Just this year alone, the singer/ actress has donned over four of D&G's designs on multiple red carpets. And while Dolce & Gabanna might have a case of the Bieber fever, they are not forgetting Justin's #1 girl! She fills out the dresses with such class for an 18 year-old, it proves that confidence can be the best accessory of all!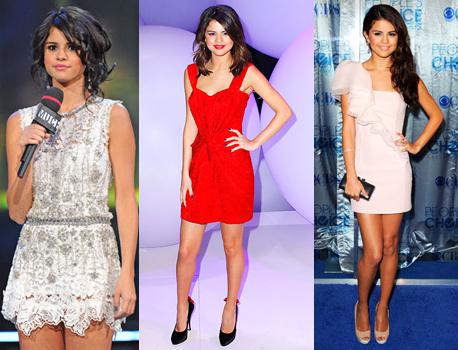 Wearing 2 designs by D&G and her other favorite label, J. Mendel
#4- Dakota Fanning
Being in the spotlight is nothing new to Dakota Fanning, who we've all grown up with since we first saw her in I Am Sam when she was only 7 years old. But recently, Dakota has landed the spot as the face of Marc Jacobs' newest fragrance Oh, Lola and according to the designer she was the only one to capture the look he was going for. At 17 years-old, she has that "seductive yet sweet" and contemporary vibe that is oh so high-fashion.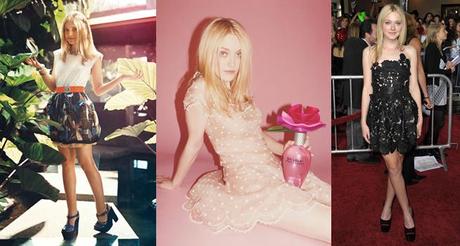 Head-to-toe in Marc Jacobs for a Teen Vogue shoot, her new Oh, Lola Campaign, and a bit more mature in Valentino. Bellisima!
#3- Hailee Steinfeld
A newcomer to not only the fashion industry but to tinsel town as well, 14 year-old Hailee Steinfeld has taken her crash course in Hollywood fame and handled it with grace and charm. She has earned a spot as my favorite young celebrity on the red carpet, nailing outfit after outfit that are wonderfully age appropriate while still retaining a fashionable edge. Apparently the designers of Prada thought the same thing, because Ms. Steinfeld is now the new face of their younger label Miu Miu. Her campaign for them has retained that youthful energy that Hailee and the brand are all about attracting women of all ages to shop the "little sister" fashion brand.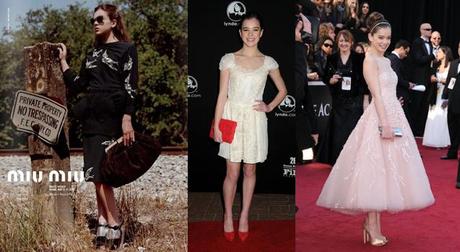 The new face of Miu Miu, showing off her styling expertise with a bold and chic color combo, and looking like the princess she is in Prada!
#2- Emma Watson
As the oldest celebrity on our list today, 21 year old Emma Watson has been known as a fashionista for a while now. The Harry Potter star has transformed on and off of the camera and has now been recognized on numerous magazines' "best dressed" lists, many times at the #1 spot. Watson has developed her own organic clothing line with Alberta Ferretti called Pure Threads, has been the brand ambassador for numerous fashion labels, and is the newest face of Lancome cosmetics. Harry Potter may be ending, but considering this girl has 3 magazine covers out on stands right now, we see a long future in fashion ahead of her.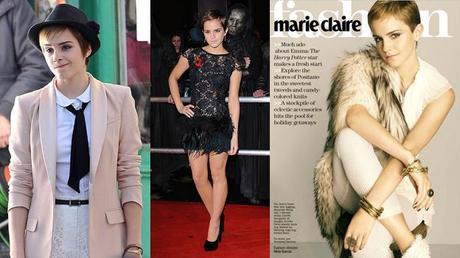 Playing up her new pixie haircut, my personal favorite red carpet moment of hers, and proof that she is currently the editorial queen!
#1- Elle Fanning
I have posted about this fashion "it-girl" before and since then Elle Fanning, younger sister of Dakota, has done even more to prove she is THE fresh, new face of fashion. At only 13 years old, Elle has been named the muse of Kate and Laura Mulleavy of Rodarte, starred in their campaigns, been featured in over 10 magazine spreads and just got asked to be the face of Marc by Marc Jacobs fall campaign. A natural born model, brilliant little actress and self-proclaimed "fashion nerd", she has never had a bad night on the red carpet. But I guess that task is made easier when you are friends with Valentino and Karl Lagerfeld- if they see something in her, I think its safe to say she's one of fashion's newest hits! Congratulations, Elle!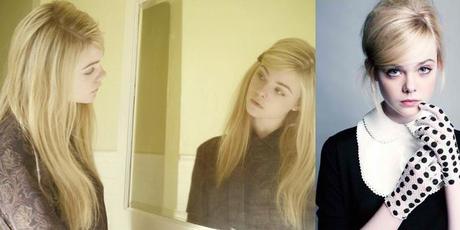 A still shot from the Rodarte campaign inspired by Elle and her most recent Marie Claire shoot (do yourself a favor and check out the rest of that spread!)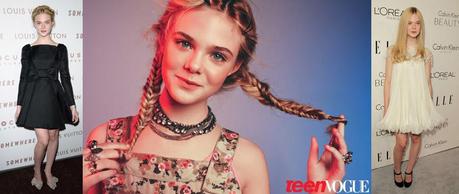 She may grace red carpets in Valentino and Marchesa, but she's still a teenager!