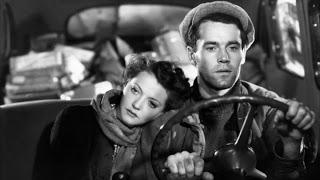 One of Fritz Lang's better Hollywood movies, You Only Live Once (1937) is a cynical, angry crime saga. Drawing loosely on Bonnie and Clyde (with an emphasis on loosely), the story is a fraught, violent tragedy where a man's past irretrievably sabotages his future.
Eddie Taylor (Henry Fonda), a former bank robber, is released from prison determined to go straight. With the encouragement of fiancee Joan Graham (Sylvia Sidney) he lands a job as a driver and buys a house...only to lose work over a minor infraction. Soon afterwards, he's wrongly implicated in a bloody bank robbery and sentenced to death. While Joan tries to clear his name, Eddie takes more drastic action: he breaks out of prison and goes on the lam, his hopes for reform dashed.
You Only Live Once plays like a more refined version of Lang's Fury (1936), another tale of a wrongly-accused criminal. Lang and writers Gene Towne and Charles Graham Baker provide scalding anger towards a society unwilling to forgive past transgressions. Eddie's earnest efforts at reform are thwarted at every turn, from a landlady who evicts him and Joan in the middle of the night to an employer who fires him for little reason. Joan becomes unwittingly dragged along with him, her loyalty alienating her family and making her an accomplice. In a society geared towards punishment rather than rehabilitation, even an honest man like Eddie can't hope to change himself.
The story has its melodramatic elements, some of which work better than others. There's a subplot with kindly Father Dolan (William Gargan) who tries to bolster Eddie, only to become a victim of his prison break. The movie's irony certainly isn't subtle, with Lang punishing Eddie every time he dares stick his head out. Still, it works: between a sharp script and Lang's atmospheric direction, with oppressive shadows mixed with striking images of Americana (the Taylors' lovely frog pond, a shadowy jail), it manages to be more affecting than it could have been.
Henry Fonda seems like odd casting for a hardening criminal, but he's a good fit for the Everyman trying to make good. Fonda gives Eddie the same passionate outrage and dogged determination of Tom Joad, even if his ideals are less noble; sometimes, doing right is a thankless task. Sylvia Sidney makes a good foil, all determined sweetness herself, though the supporting cast is unremarkable.
After a uncommonly violent climax, You Only Live Once ends on an awkward note. Having been shot by police, Eddie and Joan die in each other's arms; Eddie's beckoned into the gates of Heaven by the voice of Father Dolan, redeemed by good intentions. Like many classic Hollywood movies, it qualifies its ending with an incongruous moment of uplift; but like the best classic movies, the excoriating bitterness of what came before proves more memorable.