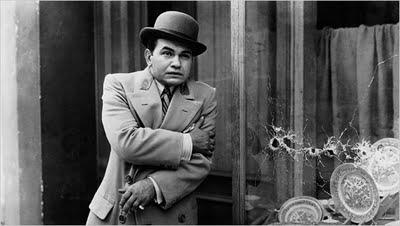 In 1923 Harry, Jack, Sam, and Albert Warner, Jewish immigrant brothers from an impoverished background, founded one of the most daring and successful studios in Hollywood which made some of the most memorable films over the following 85 plus years. Time magazine's Richard Schickel takes us on a journey through the studios history through clips of their films and interviews of many involved with the studio. Narrated by Clint Eastwood, we listen to the likes of James Cagney describing his experiences as we see clips of "The Public Enemy" and "White Heat" up until current day when we see George Clooney and discussing his involvement in many of the Warner's films. We even get to hear Clint take us through many of his hits at the studio. Schickel has carved out a niche with these types of studio documentaries. In addition to this fabulous documentary, I've also seen his retrospectives on Eastwood, Steven Spielberg, and Martin Scorsese and no one really pieces together clips as well as Schickel. "You Must Remember This: The Warner Bros. Story" is an exciting journey through the history of the Warner's remarkable movies.
Here is an outline of each of the five episodes:
A Rising Power (1923-1937)
-"My Four Years in Germany", the studio's first hit
-Success of Rin Tin Tin movies, written by Daryl Zanuck
-John Barrymore and "The Sea Beast"
-Director Ernst Lubitsch
-Experiments with sound, the signing of Al Jolson, and the success of "The Jazz Singer"
-"Noah's Ark", an incredible set movie
-"Lights of New York"-the first all talkie film
-Zanuck setting tone with tough talking films in the 30s
-The studio pushing pre-code boundaries with risqué films like "Babyface"
-"Heroes for Sale" captures pre-revolutionary state in America
-"Wild Boys of the Road" captivated audiences with story of depression kids
-FDR figures appear in many films as Warner's is known as the Democratic studio
-Paul Muni and the realism of "I am a Fugitive from a Chain Gang"
-Edward G. Robinson and "Little Caesar"
-"The Public Enemy" and the ferocity of Cagney
-The extravagance of the Busby Berkely musicals
-Forgotten star Geoge Arliss, benefitting off his stage name, and introducing Bette Davis to the movies
-Hal Wallis replacing Daryl Zanuck
-Michael Curtiz
-Bette Davis, her contentions with the studio, and her comeback that made her a top star
-B-Picture star Ronald Reagan
-Swashbuckler Errol Flynn
-Olivia de Havilland
War and Peace (1937-1949)
-"Black Legion" and "They Won't Forget", films about xenophobia and anti-Semitism
-"Confessions of a Nazi Spy", first film to take on Nazi threat, followed by anti-fascist films, Jewish biographical films, and conflicted soldier movies.
-Humphrey Bogart, "High Sierra", "The Maltese Falcon", "Casablanca", Ingrid Bergman, and the Hal Wallis' fallout from the studio
-War films consisting of a collection of types, anti-war films, war films that went too far, and patriotic films-"To Have and Have Not", "The Big Sleep", and Lauren Bacall and Bogie-Commitment to America films, "Yankee Doodle Dandy"-Film Noir
-"Mildred Pierce" and Joan Crawford
-violent postwar strikes lead to the HUAC testimonies which in turn lead to the blacklist
-John Huston's "Key Largo" and "The Treasure of the Sierra Madre" with Bogart
-Cagney, "White Heat", and the end of a movie era
Age of Anxiety (1950-1969)
-Cold War fears begin to rise
-Marlon Brando and "A Streetcar Named Desire"
-the huge popularity of Doris Day
-television poses serious threat to the film industry, studio gets into TV production, WB cartoons find new life
-foray into increasingly popular science fiction with Vincent Price's "House of Wax", "The Fog Horn", "Them"
-use of widescreen, Elian Kazan's "East of Eden", and the discovery of James Dean
-"Rebel without a Cause", "Giant", and the death of Dean
-John Wayne in John Ford's "The Searchers" and Howard Hawks' "Rio Bravo"
-Alfred Hitchcock's "Strangers on a Train" and "The Wrong Man"
-Kazan's "A Face in the Crowd" as an indictment of television
-the brothers sell their shares in the company and Jack goes beyond their back and buys his back
-musical adaptations such as "Auntie Mame" and "My Fair Lady"
-Mike Nichols' "Who's Afraid of Virginia Woolf?"
-Arthur Penn's "Bonnie and Clyde"
-Paul Newman in "Cool Hand Luke"
-Jack Warner finally gives up shares, Sam Peckinpah's "The Wild Bunch" is made, and as the studio falters
Starting Over (1970-1990)
-"Woodstock" helps the faltering studio
-"Dirty Harry", "McCabe & Mrs. Miller", "A Clockwork Orange", and "Deliverance" show varying views of violence and aid the studio's turnaround
-The studio picks up "Mean Streets" and gives Martin Scorsese his break
-"The Exorcist" becomes an unforeseen hit, the studio's biggest to date
-Mel Brooks' bawdy and uproarious "Blazing Saddles"
-Sidney Lumet's "Dog Day Afternoon" pushes boundaries
-"All the President's Men"
-Stanley Kubrick's "Barry Lyndon", "The Shining", and "Full Metal Jacket"
-Clint Eastwood, "The Outlaw Josey Wales", "The Enforcer", "Every Which Way but Loose", "Bronco Billy"
-Warner Bros. enters the blockbuster age with "Superman"
-the studio begins to contract independent producers and make sexier films like "Body Heat" and "Risky Business", the latter making Tom Cruise a star
-Steven Spielberg, "The Color Purple", and "Empire of the Sun"
-beloved mogul Steve Ross dies
-huge successes "Driving Miss Daisy" and "Batman"
A Living Tradition (1988-2008)
-Clint Eastwood's "Bird", biopic on jazz legend Charlie Parker
-Martin Scorsese's "Goodfellas"
-Eastwood's "Unforgiven"
-"The Fugitive"
-"L.A. Confidential"
-Stanley Kubrick's "Eyes Wide Shut", his death, and Steven Spielberg continuing his project "A.I. Artificial Intelligence"
-The success of "The Matrix" and its sequels
-the tremendous success of the "Harry Potter" series
-George Clooney films "The Perfect Storm", "Ocean's 11" and its sequels, "Three Kings", "Good Night, and Good Luck", "Syriana", "Michael Clayton"
-films that hold a greater appeal to the world market, "The Last Samurai", "Troy"
-Eastwood's "Mystic River", "Million Dollar Baby"
-"North Country" as a return to Warner's working class roots
-Paul Haggis' "In the Valley of Elah"
-Clint's "Letter from Iwo Jima"
-Scorsese's "The Departed"
-Reviving the Batman series with "Batman Begins" and "The Dark Knight"