Many early Utopian Socialist movements and Social-Democratic parties were influenced by the Golden Rule. That is to treat others as you would expect them to treat you.
Then there is Ayn Rand's praising selfishness as a virtue...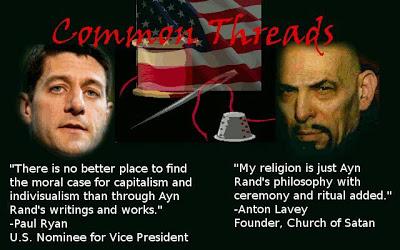 From Penigma: As part of my broad interest in comparative religions, including not only the well-known major religions, but also the minor ones, I did some reading on the various pagan faiths, including the works of Anton Lavey. Contrary to popular belief, pagans are not, for the most part, Satanists. Pre-Anton Lavey (a rather pretentious revision of his real name, Howard Levey), Satanism in the medieval European sense was a revision or opposite specifically or western Christianity. Most paganism, past or present, has no connection to Christianity, good or bad, whatsoever. Lavey's Satanism does NOT rely on a reworking of either Christian ritual or the Christian mythos. Naturally, I've also read nearly everything ever written by Ayn Rand. While I don't expect Ryan to be conversant with the finer points of either Lavey OR Rand, as he seems to be more of a poseur than any kind of genuine intellectual figure, either philosophical or mathematical, the dominant themes of both Rand and Lavey of selfishness as an expression of individualism, the opposition to altruism as the antithesis of selfishness, the emphasis on materialism are all consistent with both authors. Lavey might actually be more positive towards the equality of women, and less of a misogynist than Ryan and the Rand-loving right. So when I post the following, it is with a certain wry appreciation of how superbly accurate in detail, beyond the simple quotations shown, it really is. This was NOT taken out of context, it is not the gross distortion that someone unfamiliar with either Rand or Lavey might take it to be; it is a fair representation of Ryan, Rand AND Lavey.