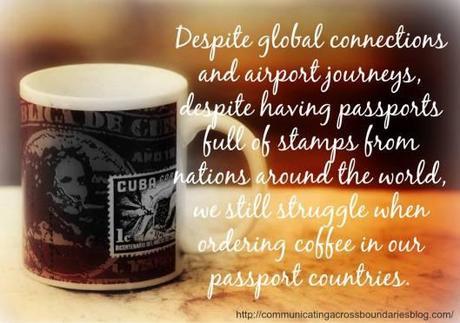 All of you long suffering spouses and partners of TCK's – this one's for you:
You know you married a TCK when…..
1. You're listening to National Public Radio (NPR)  and she shouts – "I know that reporter".
2. You're playing Trivial Pursuit and she gets stuck on pop culture but gets every country question correct.
3. You have to teach her idioms. Again. And again. And again.
4. Every three months she has to either get across an international border or rearrange the furniture.
5. You try to convince her that she cannot bargain for fresh produce at the fixed price grocery store.
6. She nods and laughs at a joke, but you know by the look on her face that she does not understand a word of it.
7. You find her in tears after trying to order coffee in her passport country.
8. She gets ragingly envious when you have an overseas trip — and she doesn't get to go.
9. You know that the only restaurants she will want to go to on Valentine's Day are ethnic restaurants.
10. One of her favorite places is the international terminal at the nearest airport.
11. Every immigrant she meets becomes her best friend.
12. She dissolves in tears when she hears news reports of tragedies from her adopted country/countries.
13. Her decorating style mixes samovars with reindeer, white lights with Egyptian perfume bottles, and Turkish bowls with books.
14. She is fiercely protective of her TCK "tribe." You criticize her tribe – you criticize her!
15. She has no problem sending her kids across the ocean to countries with uprisings and revolutions but sits up half the night worrying about them driving your car down the street to a friend's house.
16. She gets completely paralyzed in the cereal aisle of a grocery store. Or the bread aisle. Or the chips aisle. Or the….
What would you add? Spouses or TCKs are welcome to contribute!
Readers – today is the last day to purchase Between Worlds and have the royalties go to toward refugees in Turkey! Read reviews below!
Reviews of Between Worlds: