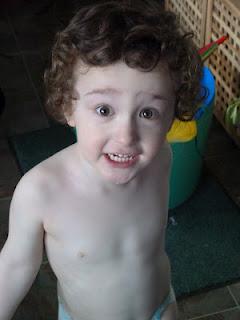 For two mornings in a run, you wake up with "There's a worm at the bottom of the garden, and his name is Wiggly Woo." going through your head.
You find yourself sitting cross-legged on the floor in the Glasgow Science Centre singing Old Macdonald and you don't fear arrest. 
It's not uncommon to prepare a breakfast of lollypops on bagel. 
You find yourself offered a stone smoothie and are warned "it's a bit lumpy and tastes of stone".
Three-in-a-bed is a bad thing. 
You are familiar with the ways of Team Umizoomi and Bubble Guppies. 
Knowing your outfit is likely to be accessorised by dried bogies, you dress accordingly.
There isn't really any point in trying to find out why your glasses case is being filled with salt. 
"Me too," strikes a cold note of fear.
And so does: "Do it again."
Quiet, ordered and unsticky, however briefly, is a cause for celebration... only under your breath in case he hears.