A few weeks ago while I was on maternity leave, Zach and I were able to go on a special night out together- just the TWO of us! If you're a new parent, you now how important and rare it is to enjoy a night out with that main person in your life so we took full advantage of our outting and decided to change our usual pizza and a movie night out to a sophisticated and fun experience!
I had heard so many amazing things about CowFish before even moving here to the Atlanta area nearly two and a half years ago. Thanks to my blogging besties in the NC area who raved about how amazing and unique CowFish was ( a Burger/ Sushi bar hence the name ), I had spotted that they had opened up here in the Atlanta area and couldn't resist heading in to try for a spontaneous and super fun date night experience!
Upon walking in, we were greeted by one of the sweetest hostesses who showed us to our amazing booth that literally sat 6 people! There is nothing I love more than a huge comfy booth ( especially for two ) ! Since it was our first time and totally uneasy with the almost 20 page menu of amazing items to choose from, our awesome waitress went through the entire thing, shared her favorites and answered our questions like 'what on earth is a Burgushi?! ' Answer: They are signature items and are sushi rolls created using beef and burger components and non traditional ingredients.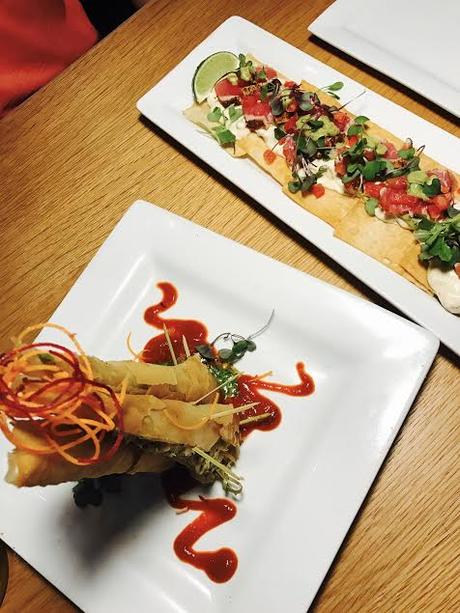 Well of course we had to start with delicious appetizers like their Blackened Tuna Nachos. Oh my GA-WSH! It's 5 wonton chips with crab rangoon dip, avocado salsa, tomatoes and yellow fin tuna. I would have made this my meal x 5 because Zach and I could not stop raving about it after devouring it in minutes! We also tried their Lobser and Crab Spring Rolls which -- lets just ooo and ahh over that presentation my friend! Their main lobster and blue crab are out of this world plus adding a bit of spice!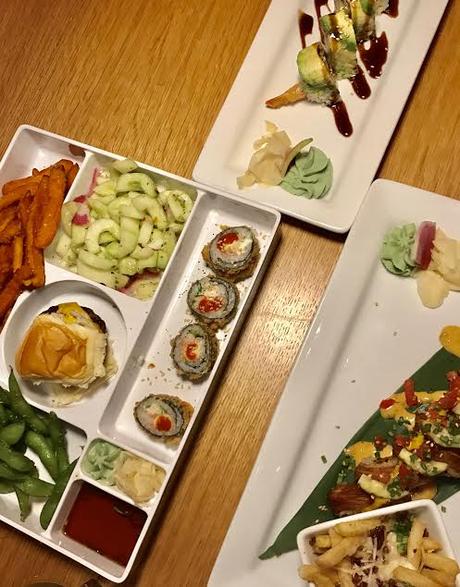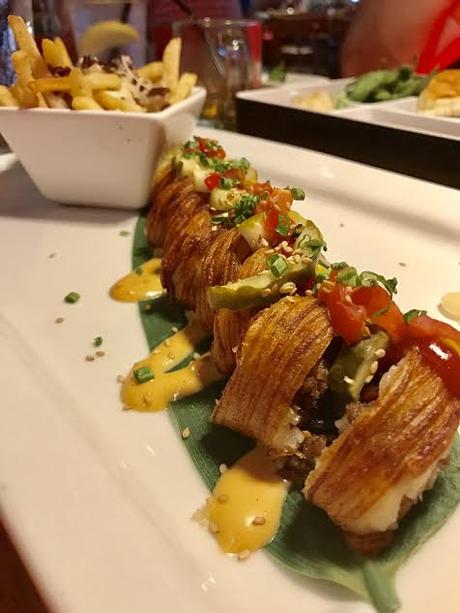 For my main entree, I wanted something fun and different-thanks to a great recommendation from our waitress who suggested I try their Burg-ushi I had shared earlier.  I had to attempt their All American Bacon Double Cheeseburgooshi and it does NOT disappoint in looking like sushi but tasting like a cheeseburger. My taste buds and eyes were so confused but loving every bite! Instead of the seasoned house fries I choose the sweet potato ones which were so topped with a bit of chili and cheese. Load 'em up friends! Zach wanted a bit of everything so he got a Bento Box which came with a mini cheeseburger, edamame, 4 pieces of sushi, pickled cucumbers and sweet potato fries! Talk about a ton of food but a great way to try a bite of everything which he really enjoyed!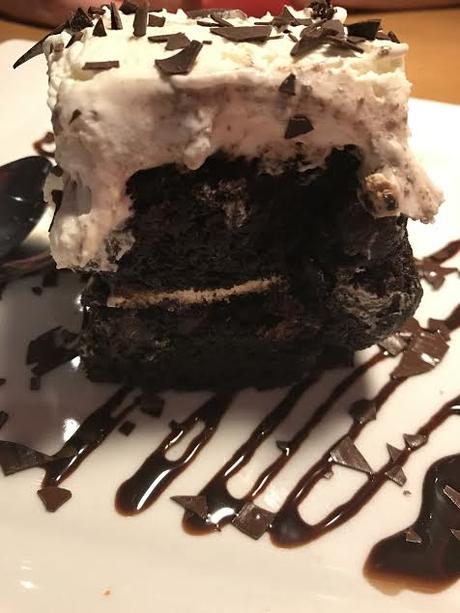 To top all of this food off, I couldn't not close the menu just yet and opted to try a signature favorite dessert; The Mousse Is Loose. A take on incredible moist chocolate brownies layered with chocolate and vanilla mouse. This choc-a-holic lover was in heaven and I fully admit to eating at least 2/3 of this with my own spoon.
Will we be back is the question? While this sushi/burger join is a bit pricey, it's totally worth it to splurge now and then on quality, authentic and totally unique food! The atmosphere is fun, entertaining and great for a night out with girlfriends, guy friends and date nights! You can bet we will be back as often as possible ( even if it's for another great date night again ). How does Saturday work for everyone?! I'll meet you there!
** Thank you to Gwen, who serves as the PR rep for CowFish, to allow me to share this review **