Yesterday I went to Place des Arts to see Kid Koala's (I know I'm old, I seriously recall him playing shows while he was underage…is this possible?) Nufonia Must Fall with Jack.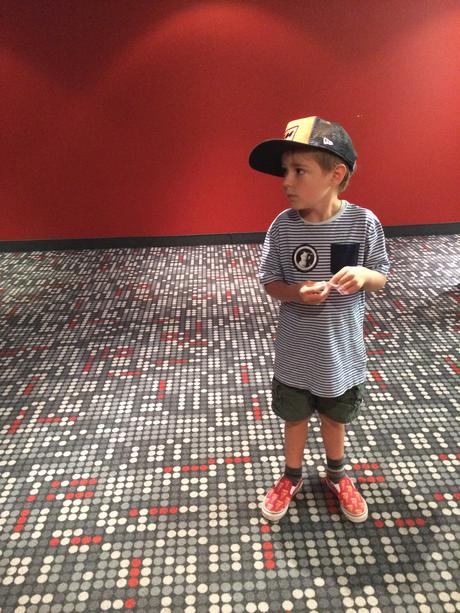 (There he is, waiting for the show at Place des Arts Cinquième Salle.)
The show is absolutely a feast. The logistics behind the set up is complex yet somehow comes across as very simple. A dj in the corner, tiny puppet sets all over the place, puppeteers moving from set to set, followed by cameras, and each scene is projected behind the stage on a huge screen. The stage direction …sublime. And of course, the string quartet whose musicians, along with Kid Koala's dj/percussion/'vocals'/etc stylings strung together the many emotions contained in the piece. Jack kept kissing my hand, thanking me for bringing him. He felt the emotion throughout the piece, yelling them out as he felt them (sorry fellow audience members!). That's not fair! This is scary, mommy. Oh, he loves her! Look, it's the airport! This is so cool!
It was just great. Great, too, to run into an old friend (hi T'Cha!) after the show while I was shamelessly in line to get Jack's new copy of the book the show is based on signed by Eric :) (how could I resist?)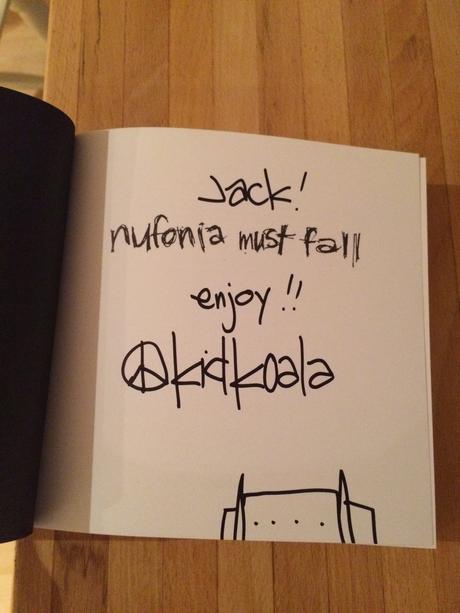 And then we went outside Place des Arts where the streets are still closed to cars for a few more days and saw the huge chess games set up. Jack wanted to play. The wait for a turn was too long. 
We had both been up late the night before. I spent the evening with some old friends, present for Nancy's final shift at the bar,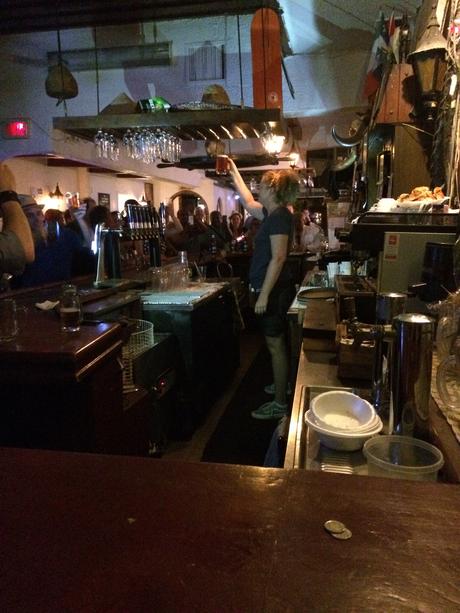 and headed home early. To be delayed by a) a holdup at the gas station (for real) and b) Kanye West fans spilling out of the Bell Centre. The police blocked access to practically every street. I finally got home and Jack was still up and had to join me while driving Sebastien home… So it was a late night for both of us.
And all I had at home was ground pork and a cauliflower… The beginnings of the calamity appeared for a few moments when he sat on the road and refused to move when I said we couldn't stay. Somehow I convinced him to walk with me (yes, we'll be playing chess, no matter how long the wait, after kung fu later today) to the car, get in, and drive to the grocery store. 
I have a long standing rule. If you walk away from me in a store and I need to spend more energy looking for you than shopping, we leave the cart where it is and go home. I've had to follow through with that rule only once before, about 2 years ago. Well, I should have done the shopping earlier in the day when he had more of a chance of sticking near me in the store. Needless to say, the cart was left next to the eggs, and I walked out holding a screeching little boy by the hand. We are not leaving, mommy! No! Turn around! The soundtrack skipped on that track until we got home. It looked something like this by the time we got to our driveway.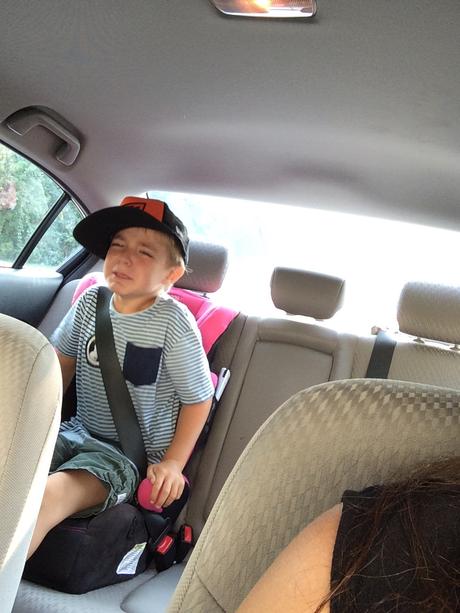 So he played chess on his own (he won) while I made the last of our food into dinner and then we ate it while watching
The Lego Movie
and finished our day dancing to
Everything is Awesome
(I know it now, Kelly!) before heading to bed, the two of us, before 8pm. 
It turns out you don't need eggs for meatloaf to work.