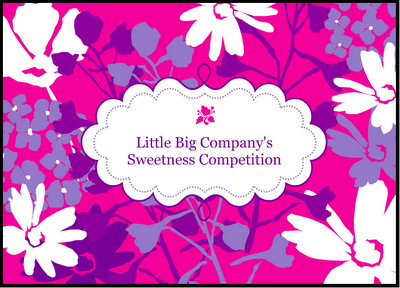 You are invited to submit into our Sweetness Competition, the photo with the most votes wins, anyone can enter.
PLEASE VOTE FOR YOUR FAVOURITE PHOTO BY PLACING A COMMENT IN THE COMMENT BOX
In order to win a $100 voucher to spend in store at The Little Big Company http://www.tlbc.com.auPlease email us your photos  on [email protected] or  if you are on Facebook post the photos on our Facebook Page we will transfer the photos to our blog for voting and competition purposes of your wonderful sweet treat creations - Please comment in the comment box on the blog to vote or email me at [email protected] with your vote.
Ideas include:- Cupcakes- Cakes- Macarons- slices- Desserts- Jellies- Mousses- Any Sweet Treat you would place on a party table basically- Chocolates etc!
Please comment in the comments box below as to what is your favorite is and I will tally up the votes by the end of COB (Australia Time)16th April. Anyone that has already commented on Facebook that has liked the photo will get counted in the tally. We would strongly prefer if you could comment on the blog though, because of Facebook's terms and conditions
The most voted photo wins please make comments on our blog below or if you have difficulty commenting on the blog  place the number of the photo you like  in the subject section of the email and  send to [email protected] with your most loved photo. I will be numbering and counting them as we go!

 ++++Please note we are located in Australia and we welcome international submissions if you win and are in an overseas country due to the Australian Post International charges  we will have to include your postage costs within the voucher.  www.auspost.com.au




Please note that this competition does not have affiliation with Facebook and please release Facebook if you are an entrant in this competition. Little Big Company acknowledges that the competition is no way Sponsored, endorsed, or administered by, or associated with, Facebook.

Acknowledgement by you that you are providing your information ie your photos to Little Big Company and not to Facebook.