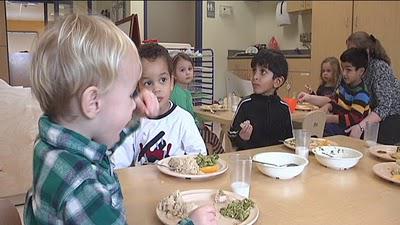 As I started working on a childhood obesity story, I found out a local daycare/preschool is offering yoga classes and fine dining for our little ones. I just had to see this for myself! While we were there filming the story, the kindergartners did a dance to "Walk like an Egyptian." It was super cute. It made me realize how important it is to teach kids to eat healthy and exercise from birth instead of trying to retrain their minds as they get older. Here's the story that ran on WHOI tonight.
Obesity is an epidemic in the u-s and it's becoming a big problem for children. Last night we showed you how one local public school is handling new government regulations for healthy school lunches.
Tonight, we are headed to a private school that is already doing what many hope public schools can accomplish.
The menu at Bright Horizons Childhood Learning Center in Bloomington has changed.
Center Director Candice Armour said,"We use all fresh vegetables and fruit. We don't use anything that's canned so the children can get the freshest produce we can provide."
The food is made in a brand new kitchen by the center's new chef. It's served family style-so the kids are learning good manners as well.
Mom Jamie Crews said, ""Considering the public schools aren't following any type of this healthy eating pattern-they still have snack machines and soda machines and everything else-it's nice to see a preschool is showing them how it should be done."
Dad Phillip Hess said, "We try to press a lot of healthy eating at home and I think with the accompaniment of them already stressing the healthy eating here at school, it sort of carries over to us at home."
A third of american kids are at risk of being obese or are in fact obese. Kids consume a third to half of their daily calories at school. That's why eating grilled chicken, whole grain rice and fresh broccoli is so important.
Center Director Candice Armour said, "They have three meals here at school everyday so we have to provide those healthy choices for them if we are going to provide these healthy environments." But as most parents know, it's not always easy to get kids to eat something new- it took some time. "Now something like asparagus-where it was something they wouldn't touch-is now a fan favorite," said Armour.
Dad Phillip Hess said, "The only one I know for sure is fresh pears. He's talking about pears a lot more so. We have added that to the menu on a regular basis."
And we all know the key to staying healthy is not only eating right, but exercising. That's why Bright Horizons gutted this play room and turned it into the movement matters room. Candice Armour said, "We wanted to give them a more structured exercise class. It gives them an opportunity to stretch the muscles and it will help them as they move on to a structured program in school."
Here kids are actually participating in fun exercise classes like aerobics and yoga. Dad Phillip Hess said, "He loves it.It makes for a tired two year old when we get home so we like it."

Federal guidelines recommend kids get at least 60 minutes of exercise a day. The movement matters classes guarantee they get that time in.
Exercising everyday and eating fresh food is normal for these students. And that's the goal, to instill healthy habits at a young age instead of making changes after kids become obese.


-NewsAnchorMom Jen


Skin Dimensions SB products, exclusive to Soderstrom Skin Institute, are manufactured with Pharmaceutical-Grade ingredients. In addition to being "Feel Good Products," they contain unique and innovative ingredients in concentrations that can assist you in the achievement of your own personal skin care objectives. This product line contains higher percentages of Glycolic, Vitamin A, C, E, Co-Q10, green tea, than what you can purchase over the counter.