maybe the world is coming to an end…
"…'As a father, it is important to make sure my children develop a healthy relationship with animals.'
'I want to ensure that my children establish a loving bond and treat all of God's creatures with kindness and respect,' he added.
'Our pet is well cared for and loved as a member of our family.'
'This is an opportunity to break the cycle. To that end, I will continue to honor my commitment to animal welfare and be an instrument of positive change.'
Read more: http://www.dailymail.co.uk/news/article-2216448/Michael-Vick-gets-dog-children-develop-healthy-relationship-animals.html#ixzz292K3Movf
It is a travesty of justice for M. Vick to have a dog. Why? Read The Lost Dogs book by Jim Gorant.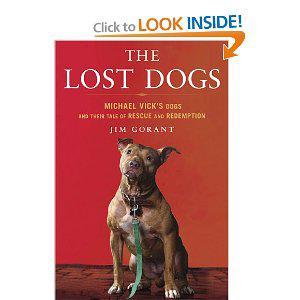 Vick served time for the federal charges of "Conspiracy to Travel in Interstate Commerce in Aid of Unlawful Activities and to Sponsor a Dog in an Animal Fighting Venture." And, while his participation in dog fighting and the death by hanging of some of his dogs was a sentencing consideration, he did not serve time for animal cruelty.  He should have been. Should have been banned from animal ownership EVER again.
"Vick and two associates, Purnell Peace and Quanis Phillips, "thought it was funny to watch the pit bull dogs belonging to Bad Newz Kennels injure or kill the other dogs." The report also states that the trio executed approximately six dogs by hanging and drowning. The hanging deaths occurred "by placing a nylon cord over a 2×4 that was nailed to two trees located next to the big shed." The men drowned the others "by putting the dogs' heads in a five-gallon bucket of water." Dogs that didn't perform well were killed. Family pet dogs were placed in the fighting ring as trained pit bulls "caused major injuries" to the pets. And these are just a few of the acts of brutality that Vick participated in.
"Michael Vick tortured many dogs over and over for years. The horrors that these animals were subjected to are unimaginable. And now Vick owns a dog. Do you think someone capable of committing so many unspeakable acts of cruelty against animals can change? Do you think Vick should own a dog?"
http://www.examiner.com/video/new-book-released-on-rescue-rehabilitation-of-michael-vicks-dogs
Who would give him a dog? What have his children been taught?  I hope we are wrong for the sake of the new puppy but we have seen no real repentence, and heard no real apologies.  Does not bode well that Vick kept owning a dog a secret, unwilling to bear the public scrutiny, until he was outted with a twitter photo. We don't know where the dog came from, its age, its breed or even its name.
"Best Friends is often asked if we think Vick should be allowed to own another dog. While his eligibility for dog ownership is a matter of law, imagine, if you would, what it would be like reading through a potential dog adoption application from Michael Vick:
Have you had a dog before? Yes
If yes, how many? Lots
Do you still have a dog(s)? No
If you have had dogs in the past, please let us know their current disposition. Dead or confiscated by federal authorities.
If you no longer have other dogs, please let us know what happened to them. Some I sold to dog fighters, some I had my cousin electrocute or shoot, some I personally strangled, drowned or body-slammed to death.
Why do you want to get a dog at this time? Because I served my time and kids want a dog.
OK, thank you, Michael. We'll get back to you on your application."
http://blogs.bestfriends.org/index.php/2012/07/20/michael-vick-dog-adoption-app/
"…the pit bulls Vick once owned are making a comeback of their own, though theirs has been a much slower, steadier climb.Take the case of Little Red. Three years ago, she would race to the nearest corner and cower, her face buried against the wall, at the sight of any human or dog. Or Ellen, who would growl at anyone who came near her, especially if they dared glance over at her food dish.
"Both dogs had such bad problems, experts said, they'd be better off dead.
"These days, though, Little Red wags her tail a mile a minute and is almost inseparable from her new, best buddy – a cattle dog mix named Google. And Ellen, a tannish-brown bundle of energy, still loves her food but loves her visitors even more – smothering them with kisses as soon as they walk through the door."
http://www.huffingtonpost.com/2011/01/31/michael-vick-dogs-pit-bulls_n_816246.html#s232910
Jasmine, Ellen, Sweet Pea, Hector, Uba, Lucas, Georgia, Oscar, Zippy, Teddles, Handsome Dan, Ray, Gracie, Harriet, Ginger, Leo, Little Red, Jhumpa Jones, Mel, Cherry Garcia, Stella, and Jonny Justice.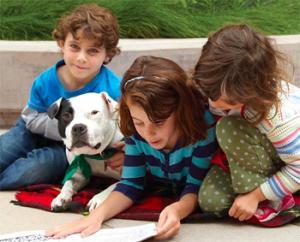 http://www.badrap.org/vick-dogs

"Despite spending 19 months in prison for running an illegal interstate dog fighting business, Vick hasn't expressed a shred of empathy toward the dogs he brutalized and killed. And rather than talk about the horrors of dog fighting, he has consistently chosen to focus on the consequences of getting caught. In a nutshell, his actions are self-serving. We've seen little remorse and even less compassion. And let's not forget, he caused unspeakable suffering to hundreds of innocent dogs. Frankly, the ASPCA has serious concerns about Vick's ability to be a responsible pet parent."