Every now and then, I like to switch up my beauty routine, just so my skin doesn't build up an immunity of sorts to what I'm doing. So, although my Homemade Morning Routine and My Nighttime Skin Reggie were working ok, I decided to change things up a bit.
I tried out some less than stellar makeup recently, and the ingredients made me break out a bit. After that, I noticed that the black soap I normally use seemed to be irritating my already enflamed skin. Time to find a more gentle cleanser.
After searching the web, I came across the Yes to Blueberries line. (First carrots, then cucumbers, now blueberries. Who knew?) Apparently blueberries are natural anti-oxidants, which are good for someone with skin in my…um…age range. ahem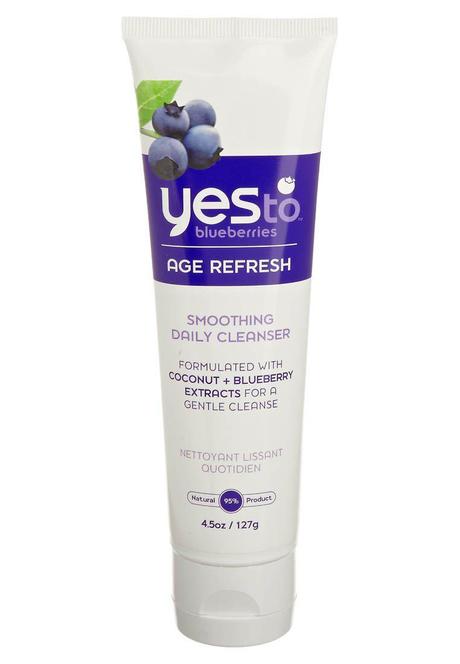 Yes To Blueberries Age Refresh Smoothing Cleanser, 4.5 Ounce ($9.95)
Ingredients: water, vaccinium cyanococcus (blueberry) juice, butyrospermum parkii (shea butter), ethylhexyl palmitate, cocos nucifera (coconut) oil, beeswax, glycerin, glyceryl stearate citrate, helianthus annuus (sunflower) seed wax, citrus medica limonum (lemon) peel extract, pyrus malus (apple) fruit extract, cetearyl alcohol, xanthan gum, phenethyl alcohol, cetearyl glucoside, glyceryl caprylate, fragrance.
The first thing I noticed with this cleanser is that it doesn't really lather up much, (proof that there's no surfactants in it. Yay!) and it actually feels more like lotion that soap.
The second thing I noticed is that if you use this product as directed. It doesn't really work. When I wet my face and apply it, because of the amount of oils in it, it just kind of slides around, not really cleaning anything.
Hmmm.
The next day, I try something different. Instead of wetting my face first, I apply the product all over my dry skin like cold cream. Then, taking a damp washcloth I wipe it all off. All my makeup comes off easily and my skin is left feeling well moisturized and very, very clean.
Aha!
So, the verdict is. I really like this product. After using it for about a week, my skin feels great. I always use toner afterwards and then moisturizer. But I really like it. You just can't use it like it says on the container is all.
RATING: 4 Smart!* – Great product, great ingredients, great price.
You can find this product in the Savvy Shop.
*Savvy Ratings: 5=Savvy 4=Smart 3=Suitable 2=Satisfactory 1=Stupid