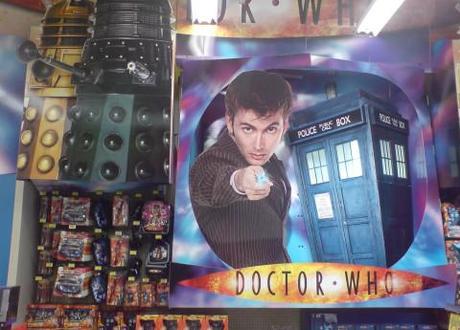 A new Dr Who movie? Think of the merchandising! Photo credit: Cait Hurley, http://www.flickr.com/photos/zoonie/
The man who brought us the fresh Harry Potter movies now wants to cast his eyes over a Dr Who movie and to start from scratch in building a story and characters. Even avid fans will be asking why we need another Dr Who movie that bears no resemblance to the television stories we love and have grown used to seeing emblazoned on merchandise everywhere.
Director David Yates has seen brilliant success, especially in State of Play and The Girl in the Café, which have become classics of our time, and the recent Harry Potter films. He's not exactly new to the job – but he is new to Dr Who.
Previous Dr Who films
The Doctor has been with some of his fans since 1963. Peter Cushing stared as the Doctor in the 1966 film - Daleks – invasion Earth 2150 A.D and the earlier 1965 film, Dr Who and the Daleks. Fans regard these films as collectors' items, but technology has moved so fast since the mid-60s that the effects used back then don't match today's expectations. The actor in those films stood out as vastly different from the aging William Hartnell in the television series, but fans took all they could get in those scary days.
The next mismatch of Dr Who in films came in 1996 when Paul McGann took over the role for the film simply called Dr Who. Standing alone, he did well and the film was good, but he wasn't one of the real 11 doctors, although he could be placed at number eight due to the lack of television series at that time. Dr Who had stopped production in 1989, so the film was really only intended to get the television series up and running again, especially as the movie showed on Canadian and US television as well as BBC1. But alas, we had another nine year wait until BBC took the reins once again.
A new doctor
The forthcoming film will have a similar problem: The role won't be offered to any of the team currently playing Doctor Who so we'll be seeing different Doctors on television and on the big screen. The writing experts, Russell T Davies and lately, Steven Moffat, won't be involved so whatever we're presented with will be entirely different, though with a back-story (stretching over 783 episodes) that needs to be at least thinly adhered to.
The recent doctors, Christopher Eccleston and David Tennant, were warmly regarded in the role, though the jury still out on Matt Smith. A fourth doctor will be confusing, and likely an offering to the Hollywood film industry rather than the current legion of fans. It will also be interesting to see if they cast an English actor as Doctor Who – he's always been quintessentially English, even when played by a Scotsman.
No more Martha Jones
As no former cast members will be used, you'll have to ensure you follow Law & Order (UK) to catch sight of the wonderful Freema Agyeman who added so much to the companion's role as Martha Jones. The choice of companions will set the teenage to mid-20s actresses of Hollywood wondering whether they dare take such a role. Maybe this new companion will wear tight T-shirts rather than flowing dresses. Is there a place for Cameron Diaz or Halle Berry to fill the cinemas?
Whether the Daleks will return once again to be the everlasting enemy the Doctor always thumps into oblivion, will remain to be seen, but if they're going for so much newness, the Daleks will probably stay on Skaro. A new villain would be a good choice, giving old and new fans something to cheer about.
***
Having said all this, if Yates can get his Harry Potter audience to see the Doctor Who film, the new fans might then start going back to 1963 to see what they've missed. And there's the existing audience: If you're a Dr Who fan, you'll still see the film, even if you complain about how high tech the effects are. It might be ready for Dr Who's 50th anniversary in 2013, though it's still a rather unformed dream at this point: Without a screenplay, any cast or in fact anything more than an idea, the movie may see a later release. And no doubt the director will be thinking about how he can extend to at least a three-movie franchise.