Yauatcha Terrace is an extension to the Yauatcha experience. This lounge is on the roof top of 1MG Mall and is open only on Thursday, Friday, Saturday and Sunday. The atmosphere here is lively with a central bar serving amazing drinks. Yauatcha Terrace recently introduced an extended menu for its drinks and food. We tried a couple of items from there new menu which comprises of snacks and drinks only. Read my last review on Yauatcha Terrace here.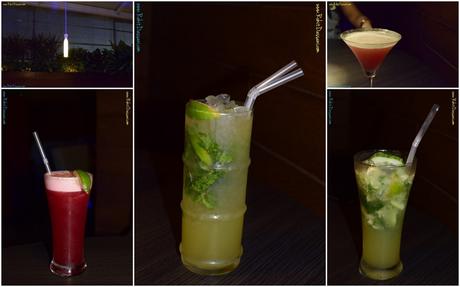 First of all we started off with the drinks like the Basil and Cucumber Iced Tea, Berry Iced Tea, Ginger Cosmopolitan and the Victorian Mojito. The Basil and Cucumber Iced Tea had the subtle taste of basil muddled with fresh cucumber along with apple and passion fruit juice. To infuse the flavor of tea, jasmine tea was added to it making the drink refreshing in taste. The Berry Iced Tea was a different experience all together. This red colored drink had Raspberry puree and cranberry juice along with green tea. The Ginger Cosmopolitan was made with fresh ginger and lime. If you're bored of Mojito do try the Victorian Mojito made with apple juice and lime.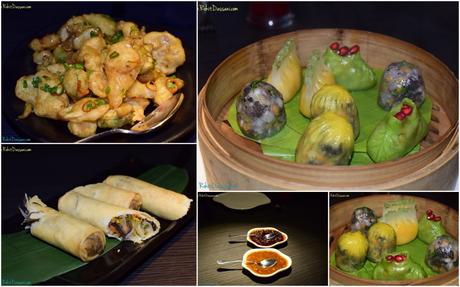 To accompany the drinks we ordered the Vegetarian steamed dimsum basket which had dimsums from accross the Yauatcha menu. The steamed dimsum basket consists of four different kinds of dimsums and each one had a unique taste. Next we had the Vietnamese Spring Roll, the stuffing was made from shredded cabbage, mushroom and other veggies and was delicious. The Crispy Vegetables in sweet chilli sauce were deep fried vegetables; which were then tossed with sweet chilli sauce.
Overall the food menu is very limited and most of the food here is fried. Suggest to extend the menu even further to include more food items from across the spectrum.
Yauatacha Terrace – Scorecard –
Food/Taste – 8/10
Service/Hospitality – 8/10
Value for Money – 8/10
Ambiance – 8/10
Quantity/Quality – 8/10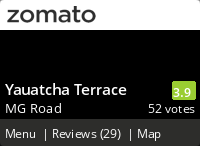 Overall Rating – 4/5
Lively, but still needs more food items on the menu!