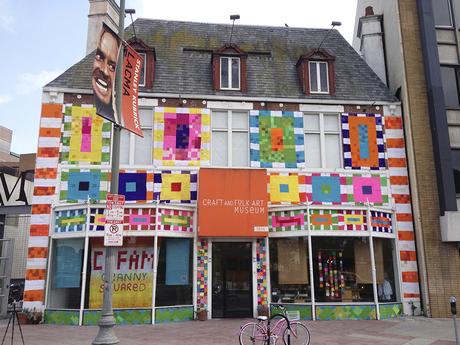 Yarn Bombing Los Angeles covered the Craft and Folk Art Museum in Los Angeles with 7,500 hand crocheted granny squares for the CAFAM Granny Squared project in 2013, bringing together more than 500 crafters from 25 countries for the common goal of creating a work of art in yarn.
Image courtesy of Martha Benedict.
At Dwell on Design Los Angeles 2015, attendees will be able to observe the Yarn Bombing Los Angeles team—including Julie Kornblum, David Orozco, Judy Richards, Darlyn Susan Yee, and Carol Zou—as they create colorful, site-specific installations.
Participants will have the opportunity to sew together a blanket made of excess granny squares from the CAFAM Granny Squared project. Each completed granny square blanket will be added to a yurt structure, setting up a colorful and ephemeral "Temporary Residence."