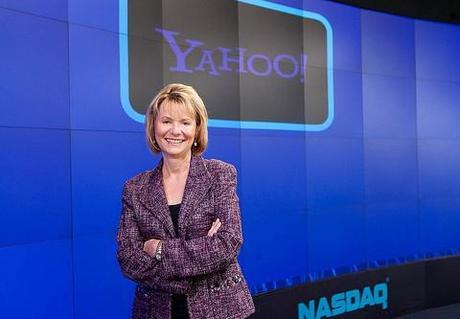 Carol Bartz, erstwhile CEO of Yahoo Inc. Photocredit: Yodel Anecdotal http://www.flickr.com/photos/yodelanecdotal/3941698678/sizes/m/in/photostream/
Internet company Yahoo Inc. suddenly gave the heave-ho to its Chief Executive, 62-year old Carol Bartz, on Tuesday. The sacking took place over the phone (a "totally classless move", said Zennie62 on SFGate, The San Francisco Chronicle blog), even though she had more than a year left on her contract. Yahoo's stock has risen by 6 per cent since the news. Chief Financial Officer Tim Morse will be the interim CEO. Bartz was credited with overhauling Yahoo's structure; the company made a profit of more than $1 billion last year. The news of Bartz's dismissal was leaked via AllThingsD, a technology news website.
Yahoo was the Number One search engine in the early 2000s, and was a result of the "dot-com boom" in the late 1990s. It's recently been faced with massive competition by behemoth Google and young pup Facebook. A dispute over ownership of an arm of the Chinese e-commerce group Alibaba did not help matters either.
"In Kazakhstan we assemble Dream Team for Internet startup. We have as far [sic]  Eric Schmidt + Carol Bartz," said the Sacha Baron Cohen spoof, Borat, on Twitter.
According to The Wall Street Journal, the board of Yahoo Inc. was "growing impatient" with the company's performance.  The paper also reported that the board had been looking into Bartz's performance for a year, and had concluded that getting rid of her was the only way to deal with the matter. The paper took the angle that her departure highlights how the internet industry has changed, and the difficult for a "first-generation Web comany to repel younger competitors."
"I am very sad to tell you that I've just been fired over the phone by Yahoo's Chairman of the Board. It has been my pleasure to work with all of you and I wish you only the best going forward." Carol Bartz's memo to employees, sent from her iPad, and quoted on The Wall Street Journal.
Colourful, but no Steve Jobs. The Economist's Schumpeter blog said that Bartz's "potty-mouthed epithets" made Bartz one of Silicon Valley's "most colourful characters." Ousting her has shown how deep Yahoo's trouble is: the company's "still a generalist" in a world "dominated by specialists." Though its traffic was high, it never successfully "monetised" it, allowing Google and Facebook in the door. Its Asian arm has been strong, however. Now private equity firms are interested in buying it; Yahoo itself is keen on Hulu, a video-streaming company. But Bartz's "abrasive" style has led to hordes of executives leaving. When she got the news of her dismissal, no doubt "a few choice expletives lit up the air." But her only crime, said Zennie 62, was "not having the Steve Jobs-ian vision needed to rescue Yahoo! from the bureaucratic behemoth self it has become."
Storm brewing for months. Ben Parr on Mashable said that the firing ends a "rocky" three years of failures and "unmet expectations." Bartz was brought in to streamline the company after Yahoo rejected an acquisition deal from Microsoft. But this has been "brewing for months." Bartz had absolutely no idea how to reinvigorate Yahoo. It wasn't the fact she couldn't direct the company though, or that she squabbled with Alibaba. It's that she "failed to create shareholder value." Now it's up to the company to find someone with real leadership and vision.
Rudderless. Therese Polettis on MarketWatch asked what can be done to fix the company. It doesn't know where it's going – Yahoo "isn't clear about its mission in life." It's a hybrid of a "media company and a tech firm." She should be given credit for streamlining Yahoo. But the company's stock has been downwardly slipping since May. It needs to work out what it is actually doing, otherwise "any new leader will be stymied to help turn it around."
More on the internet and hacking

Hollywood Leaks
MacAfee reveals world's biggest hack
Justin Timberlake buys MySpace
Facebook users make for the exit
Facebook on the decline? Don't tell this person – they've gotten their Facebook friends tattooed on their arm
Facebook for under-13s? Zuckerberg thinks so