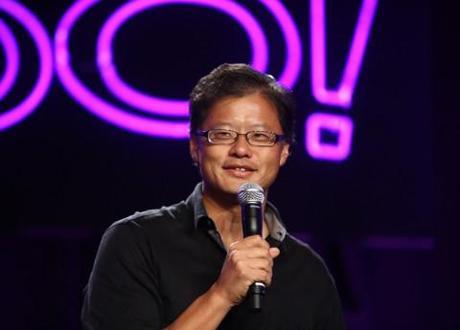 Jerry Yang, Yahoo's founder. Photocredit: http://fr.fotopedia.com/items/flickr-3972517107
Yahoo!'s co-founder Jerry Yang has left the company and its Asian partners, continuing the upheaval at the internet company's boardroom. Yang helped start up the site in 1994 with David Filo, a fellow Stanford University graduate. The company's shares have risen 3 per cent on the news. Yahoo! is currently valued at $720 million, and Yang owns a 3.6 per cent stake in it. Reaction to his resignation has been positive. The question as to whether shareholders have forced him to do so or whether he went of his own accord is unclear, although Kara Swisher on AllThings D said that he "jumped, even though being pushed was surely looking on the horizon." Four more board members will be following him out of the door. (Interestingly, Periscope has learnt, the company was named not after the exclamation used by cowboys, but after the brutish characters in Jonathan Swift's satire Gulliver's Travels; since Yang and Filo considered themselves as such.)
"My time at Yahoo!, from its founding to the present, has encompassed some of the most exciting and rewarding experiences of my life. However, the time has come for me to pursue other interests outside of Yahoo! As I leave the company I co-founded nearly 17 years ago, I am enthusiastic about the appointment of Scott Thompson as Chief Executive Officer and his ability, along with the entire Yahoo! leadership team, to guide Yahoo! into an exciting and successful future," wrote Jerry Yang in his statement. In the same statement, Yahoo Chairman Roy Bostock called Yang a "visionary and a pioneer."
Out with the old. Analysts, said The Financial Times, say this will "leave the way clear for Scott Thompson," the new chief executive. It's also possible that there will be "a broader boardroom overhaul", with even Bostock leaving. Some analysts say that Yang was happier thinking about his own influence over Yahoo! than about the interests of shareholders – which is why he turned down the takeover offered by Microsoft.
The specter of the past. It must have been hard to leave, said Mercury News. Yang's tale is both "inspiring and cautionary." The cautionary bit is that sometimes a CEO doesn't know when the right time to move on is. The inspiring bit is that Yang and Filo made "sense of the chaos of cyberspace." It's unfortunate that the specter of the Microsoft deal will always hang over him.
Removing barriers. In terms of business, his exit will get rid of barriers in finding a buyer for a take in Yahoo's Asian assets, suggested Business Week. Scott Thompson will be able to "unwind the company's part-ownership of Alibaba Group Holding Ltd.", and will thus be able to mount a more "credible threat" to Google and Facebook in terms of advertising. Yang was seen as a barrier to change. Yahoo's actually "the most popular US Web portal."
Time for a change? Dan Primack on his Fortune blog wondered whether now Yahoo! might consider being picked up by a rival, or by private equity investors.
Yes indeed. Yahoo! doesn't know "what it does or what it's about," tutted Molly McHugh on DigitalTrends.  It's cut jobs, and there have been "disappointing returns" on investments. Remember, though, that the rest of Yahoo's board "was reluctant to a sale." It's probably best now to sell off as much as possible, and make as much profit as possible. Look at the share price rise – investors certainly think so.