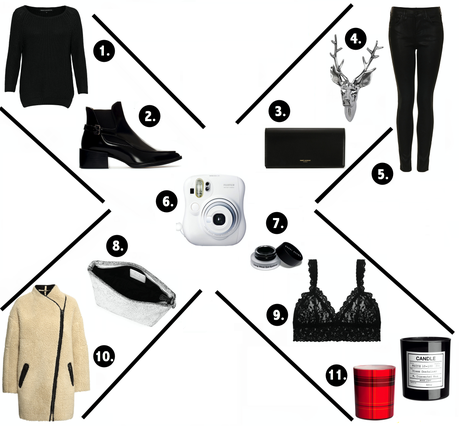 1. French Connection 2. Zara 3. Selfridges 4. Strawberry Fool  5. Topshop 6. Amazon 7. Bobbi Brown 8. Selfridges 9. Hanky Panky at Net-A-Porter 10. H&M 11. H&M
Just a quick post today as I need to nip out and grab a few more ingredients to make The Londoner's Ultimate Swedish Meatball Recipe. Ikea eat ya heart out! Here's just a little taster of some of my Christmas Must-Haves. Hopefully this will give you some inspiration for gifts for friends or family or maybe for yourself, I mean we all deserve a treat now and then, right? Now I love tumblr and I can quite honestly say it has become part of my daily routine. I love looking through inspirational photographs from all corners of the world, of fashion, interiors, food etc, and as I consider myself to be a relatively keen photographer I thought about getting together some daily photo diary posts together. What do ya think?
p.s. I have become slightly obsessed with getting my hands on a polaroid camera so this Fujifilm Instax Mini 7 one fits the bill perfectly!