BM# 63: Journey through the Cuisines 
Week 4: Kerala Cuisine 
Day 24: X for Xmas Fruit Cake
So here we are at probably the most difficult letter of all, X. There are very few dishes or veggies that start with the letter X, so this must have been a tough letter for everyone except for those cooking from Spanish or Chinese cuisines. I was initially planning to go with an adjective or a verb but finally ended up making this Kerala Style X mas Cake.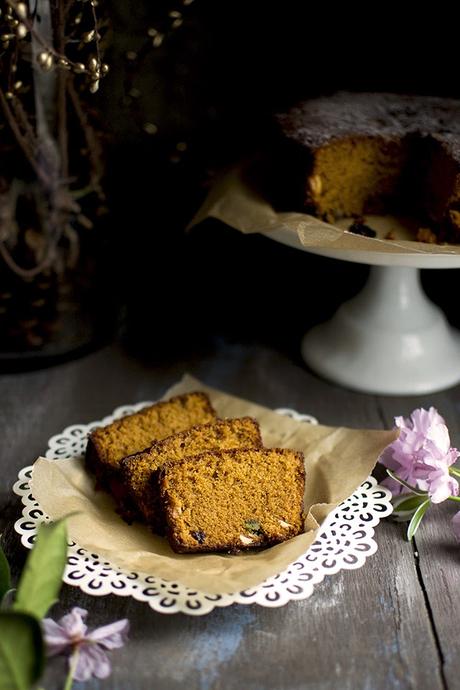 I was thinking of doing a post like xplore Malabar cuisine, xperience Kerala sadya or something on those lines. I even asked Rajani for her input and she said try a sadya meal by making dishes over couple of days. I was tempted but the amount of work involved seemed too tedious and with the husband traveling, it was way too much food for just me. It is one of my dream meal to make in my lifetime.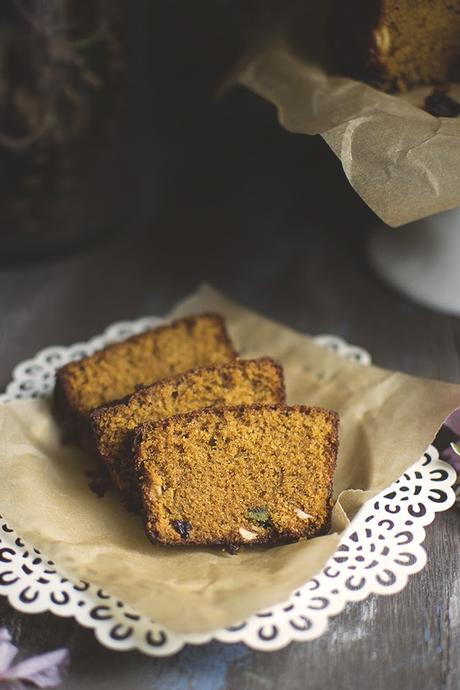 After ruling out all my options, I was getting desperate to find something to cook for today. Then the past weekend this Kerala X-mas Cake came to my mind and you can imagine my excitement for coming up with this -- I patted myself more than a few times :-)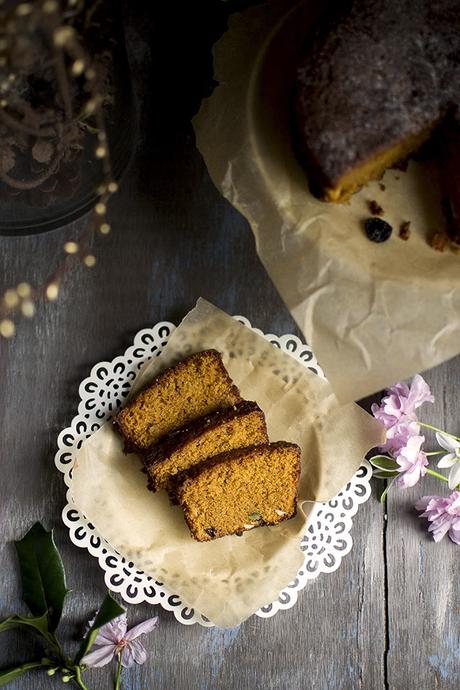 This recipe is from Nag's blog. The good thing about this plum cake is that the dry fruits don't have to be soaked ahead of time and that was perfect for me since I didn't have much time. Only difficult part of the dish was making the caramel -- I was worried that I will burn it. But thankfully it turned out great and the slight bitterness of the caramel offsets the sweetness in the cake and gives the cake a beautiful color.
It feels strange making Christmas cake this time of the year, but now that I tried it, I'm definitely going to make this cake again during holiday season. Fruit Cake turned out so soft and absolutely delicious.
My dry fruits settled in the bottom despite dusting them with flour. May be I didn't drench them enough, so make sure to drench the dry fruits really well.
Recipe adapted from Nag's CookingandMe
:
Xmas Cake
Ingredients
:
1cup

All purpose flour

1tsp

Baking powder

⅛tsp

Salt

⅛tsp

Ground Cloves

¼tsp

Ground Cinnamon

⅛tsp

Ground Nutmeg

1cup

Sugar

½cup

Unsalted Butter, at room temperature

3

Large Eggs

½cup

Cashews, chopped

¼cup

Black Raisins

½cup

Mixed Dry fruit (cherries, dates etc)

1tsp

Vanilla extract
Method
:
Make the Caramel: In a small saucepan, combine ⅓cup sugar and 1tbsp water. On medium heat, melt the sugar while stirring. Then let the sugar caramelize until deep amber color, don't stir it -- twirl the pan to melt evenly. Once it reaches the desired color, take it off the heat and cool for 1~2 minutes. Then bring the pan to the sink and add 3~4tbsp of water. Hot caramel will gurgle violently, so make sure you keep your hands at a safe distance. Add water slowly, swirling the pan. Caramel is now ready. Set aside to cool.
Preheat oven to 350°F. Lightly grease a 6" round cake pan that is at least 3" deep or use a 8" round pan or a 8½"x4½" loaf pan. Line the bottom and sides of the baking pan with parchment paper and lightly grease the paper. Keep ready.
Add 2tbsp flour to the dry fruits and nuts, so that they are dredged completely. This will prevent them from sinking.
In a small bowl, combine the remaining flour, baking powder, salt and spices. Mix well and set aside.
In a mixing bowl or the bowl of the stand mixer, beat butter and the remaining ⅔rd cup of sugar until light and fluffy about 3~4 minutes. Add the vanilla extra and mix well.
Next add 1 egg and beat until incorporated. Add ⅓rd of the flour and mix well. Repeat with the remaining eggs and flour.
Add the cooled caramel and flour coated dry fruit. Gently fold to combine. Pour the batter into the prepared pan and smooth the edges.
Bake for 40~50 minutes until the top is dark brown and a cake tester inserted into the center comes out clean. Start checking the cake around the 35 minute mark to avoid over-baking. Remove onto a wire rack, after 10 minutes remove the cake from the pan and let cool completely before cutting. Store the leftovers at room temperature for 2 days or in the fridge for up to a week.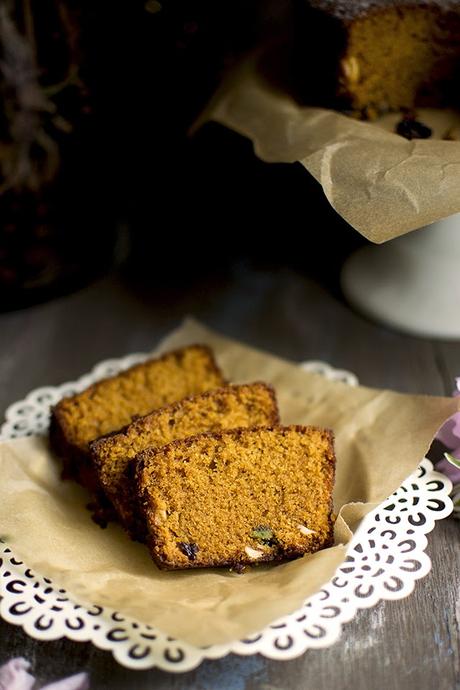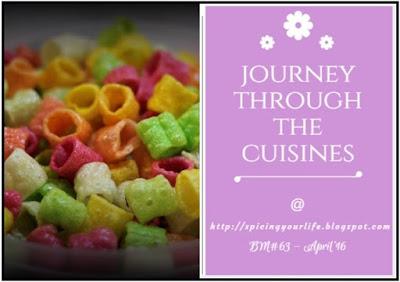 Check out the
Blogging Marathon page for the other Blogging Marathoners doing BM# 63.
An InLinkz Link-up