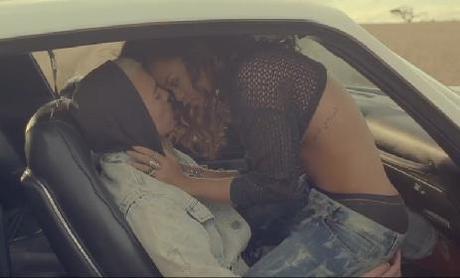 Rihanna: Now with added clothes
Another X Factor, another chance to watch someone's dreams being crushed on live television. It was Craig Colton's turn to die a little inside on the latest results show, which saw him in the sing-off with Amelia Lily. The judges were split over who should stay to sing another day, which meant the decision went to deadlock; and Liverpudlian Craig, with the fewest public votes, was sent home.
Licence to cull. Writing on The Guardian Liveblog, Stuart Heritage suggested Craig's rendition of Bond song "Licence to Kill" was rather dull: "He's singing it just like he always sings songs – standing completely still, apart from an occasional fist-pump." Indeed,  Unreality TV's Lisa McGarry argued that Craig ended up in the bottom two because his performances were becoming predictable. But mentor and head judge Gary Barlow insisted on The Xtra Factor that there was nothing boring about his act, and later tweeted support for the rejected singer: "Well done tonight @CraigColtonUK you did yourself proud #star".
X Factor crisis? Craig is presumably not the only one feeling rather dejected at the moment: according to The Sun, X Factor bosses are facing a drop in phone votes, viewers and ad income. Advertisers are apparently calling for a reduction in rates for X Factor slots: "It could leave ITV down by as much as £3million on last year's estimated £21million X Factor final bonanza."
Remaining X Factor acts: Janet Devlin, Misha B, Amelia Lily, Little Mix, Marcus Collins.
Misha B. And even though she avoided the sing-off this week, things aren't looking great for Misha B: Michael Hogan described her as "a shadow of her former self" in The Telegraph following the bullying allegations earlier in the series. According to Hogan, Misha's unpopularity with viewers has led to desperate measures to keep her on the show: "Mentor Kelly Rowland has given her increasingly bland songs and styling. Tonight there was a sob story VT, angelic white frock and bland Whitney Houston ballad." Indeed, the sob story has proved controversial: Tom Bryant reported in The Mirror that viewers were unimpressed by the amount of time allotted to Misha B's tearful backstory during the live show.
Rihanna in clothes shocker. But it's not all bad news: in an unusual turn of events, Rihanna managed to wear some clothes for her guest turn on the results show, and initially The Daily Mail was delighted: "At first glance Rihanna looked like she was playing it safe in a demure tartan dress on the X Factor." However, the paper's eagle-eyed reporters subsequently discovered that the singer was in fact wearing shoes with "F*** off" written across the side.
Dermot engaged. In even cheerier news, X Factor host Dermot O'Leary is engaged to long-term girlfriend Dee Koppang, it was revealed on The Xtra Factor. He described himself on Twitter as a "very lucky boy".
More on The X Factor

The X Factor: Week Six
The X Factor: Shock eliminations
The X Factor: Halloween Week
More pop culture »