Preview of Wynd #1 by James Tynion IV & Michael Dialynas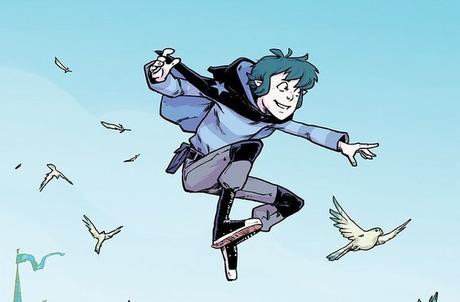 Here's a short preview of Wynd #1 by writer James Tynion IV and artist Michael Dialynas, on sale June 17th, 2020 from BOOM! Studios.
Press Release
For fans of Once & Future, Isola and Middlewest, the award-winning team of James Tynion IV ( Batman, Something is Killing the Children) and Michael Dialynas ( The Woods, Teenage Mutant Ninja Turtles) reunite for the new Must Read series that shocked the comic industry!
Magical heritage is punishable by death in Pipetown, so a young boy named Wynd must keep his true identity - and pointy ears - a secret from everyone, even if it means he'll never have the normal life he wants. But when his secret is threatened, Wynd will be forced to leave his home behind to embark on a dangerous quest that will put him at the heart of a royal conspiracy beyond his imagination.
Now on the run with Oakley (his best friend), Thorn (the boy of his dreams), and Yorick (a literal prince!), Wynd will have to embrace the magic within himself if he wants to save them from the shocking dangers that await!
Every issue of Wynd is oversized, featuring more than 40 story pages
Wynd #1
Writer: James Tynion IV
Artist: Michael Dialynas
Letterer: Aditya Bidikar
Main Cover: Michael Dialynas
Variant Cover: Dan Mora
Publisher: BOOM! Studios
Price: $3.99