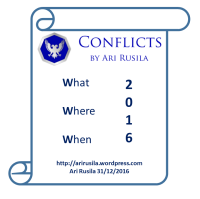 Articles published in Conflicts by Ari Rusila in 2016 excluding guest posts, reblogs and reprints:
Turkey In The EU-Trump-Russia Triangle By Dr. Nejat Tarakçı
Trump Presidency Brings Realpolitik Back To Mid-East
Constructive Unilateralism (II) as Solution to Israeli-Palestinian Conflict
UNESCO: The Temple Mount Is Sacred Only To Muslims
Israel vs Palestine – Selected Videos
Resetting Russian-Turkish Energy Relations
2nd Lebanon War – Lessons Learned
Update: Mideast Peace Process
Armed Drones: President Obama's Weapon of Choice?
EU Reaching Cul-De-Sac Due Brexit – Revival Of Confederalism Necessary
Gaza Seaport – A Threat or Change
Israel Govt. Reshuffle Done – Lieberman Instead Herzog
Gaza's Tunnel War Continues On All Fronts
Gaza Update: Hamas Downfalling – IDF Prepared
Israel-Greece-Cyprus Alliance as New Mideast/EastMed Game Changer
Israel's 5 Strategy Options Regarding West Bank After Abbas
Biased ICTY Sentenced Karadzig 40 Years Based On Srebrenica [Hoax]
Underground Iron Dome i.a. Against Hamas' Terror Tunnels
Hamas' Relations With Egypt Worsened
Now Israel Has The Most Advanced Missile Defense System In The World
Triangle Drama Ukraine, Crimea and Jews
Herzog's Plan: Security Barrier Around the Major Settlement Blocs of West Bank
---
2016 articles in Finnish can be found from Ari Rusilan konfliktit -blog and Israel topic (in Finnish) from Ariel web publication.