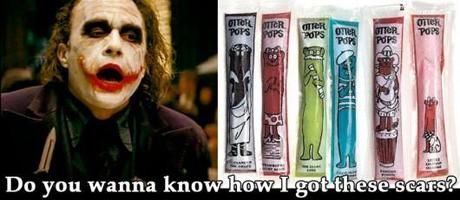 As always I have scoured the Twitter Machine for the most 'wtf?" tweets I can find in order to present them to you fine folks.
The trending topic that stood out the most today was #StoryBehindMyScar. Be forewarned that there were a lot of tweets about self mutilation. I have my own views on that, which are neither here nor there, but the one in particular I chose was not so much because they were talking about it (on a public pedestal none-the-less) but was because they said doing so was not 'attention seeking if they tweeted it'. I'm self-aware enough to admit that this blog is definitely my way of seeking attention and validation. Yes, I need you to love me. Yes, I need you to read my blog. Yes, I get sad when my views drop consecutively for a couple of days, so sue me. At least I can admit it.
By that logic I believe I'm being objective enough to say that telling the entire goddamn world that you used to cut yourself while participating in a nationally trending topic is a little attention-seeking. I understand the need to bring awareness to issues such as that but there are much more effective ways to do so. /EndRant
On a lighter note, I bring you the WTFery:
Today, instead of writing my commentary, why don't you leave yours? I'm interested to see what comes to your mind in comparison to what came to mine. 
#storybehindmyscar I was five years old and liked my cat a lot more than my cat liked me—
Lauren Budney (@LaurenBudney1) August 15, 2012
#storybehindmyscar my wife told me i should smile more—
Alex Greenbaum (@GreenBaum34) August 15, 2012
#storybehindmyscar my parents beat me.—
kerri wells (@kerri_wells) August 15, 2012
#storybehindmyscar I was personally victimized by Regina George—
Jeff (@El_ElCoolJ23) August 15, 2012
#StoryBehindMyScar is trending. People are responding in 140 charaters. It took Harry Potter seven, ridiculously long, books. Drama queen.—
The Dark Lord (@Lord_Voldemort7) August 15, 2012
You made me think you cared for me, but you didn't at all. Thats the #StoryBehindMyScar on my heart…—
DJ pattyboii (@pattyboii) August 15, 2012
and coincidentally, right below in the Twitter feed:
So many inspiring stories of heart survivors on #StoryBehindMyScar! Heart disease can't keep them down!—
Krisleigh (@KrisleighH) August 15, 2012
#storybehindmyscar I don't have any because I'm perfect.—
callie bombassi (@callie_bombassi) August 15, 2012
#storybehindmyscar self harm. and to all you people saying I'm attention seeking for it, I'm not. You have no idea.—
kidrauhlforever. ∞ (@ukbeliebersxo) August 15, 2012
@ShezOkidi its not attention seeking if i tweet it.—
kidrauhlforever. ∞ (@ukbeliebersxo) August 15, 2012
#storybehindmyscar I had a HUGE scab on my knee. Whilst I was at the cinema I was picking it, then left it in the cup holder #noshame—
Desstttt (@Dest_xo) August 15, 2012
I used to cut. I was bullied at school. No one cares about me. But Justin saved me. Justin was the reason why i stopped. #StoryBehindMyScar—
Rαfαiliα Κ.♥ (@annabelieber_00) August 15, 2012
#StoryBehindMyScar Fell out of bed while masturbating.—
Ryan Alcott (@RyAlcott) August 15, 2012
#storybehindmyscar i was on my knees to much as a kid…. #slutatbirth—
Adriana Bozza (@bozzafood) August 15, 2012