Wuhan has been my home since July 2015, this Central Chinese city definitely has its moments but I want to focus on some of my favorite things. Food, sightseeing and security are the three components for this round-up of all things Wuhan. I don't appreciate running for buses and dealing with uncivilised behavior but deep down Wuhan showcases a few favourites. 

They say home is where the heart is, for this moment Guanggu, Wuhan is my home. A student mecca with a series of shopping centres that dominate this Optics Valley hub. One of my favorite places has to be this nonstop metropolis, it may be always heaving with people who rush around like torpedoes hurtling for their target but its home. I have lived in Shangdu, a multi-functioning high-rise apartment block that serves as residential and business means. Signing my first accommodation on the 3rd of July 2015 I settled into my multi-colour Guanggu central area. I got to know that everything I would need would be sitting just downstairs from my apartment, I didn't have to look far for my local cinema because I have three to choose from! Connected to Line 2 of the Wuhan Metro at Optics Valley Square station I had Wuhan where I wanted it, during those early days I couldn't believe my manic surroundings! Yes!
I do love the convenience of this concrete corner of Wuhan, I can make use of the 24 hour general shops that are a stones throw from the entrance to my building, making those late night munchies possible. I have become used to the crowds and the ways the people walk, I have a method to weave in a out of the crowds because those Guanggu folk take their sweet time! Moving from my original apartment to the other wing was amazing, I didn't want to move closer to my Kindergarten because of the amenities that I wouldn't get in that area compared to Guanggu's central Optics Valley Square. I love to see the progress of the Square's construction because it was a piece of dirt when I first saw it when I exited Optics Valley Square station for the first time. I like nothing more to stay in my apartment at the weekends compared to sightseeing now, I do go out sometimes but I love nothing more than doing nothing in my air-conditioned apartment for Guanggu can be so hectic!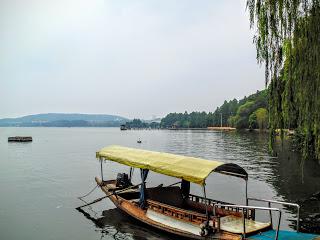 It's no secret that Wuhan isn't a famous destination for overseas tourism but throughout my time living in this Central city I have found some gems for sure! My favorite thing is to scratch beneath the surface, doing just that in Wuhan has led me to places like the Gude Teample of Hankou, a place of worship that served Hindu and Buddhist qualities at the same time. Surrounded by a really normal Hankou neighbourhood I got to know Gongnongbing Road to then be directed down a simple residential street that was lined with small businesses and a string of small tenement like flats that served 'Urban Decay' slaying any kind of tourist honey pot in my book! One of my favorite places in Wuhan that takes away those teaching stresses has to be East Lake, especially focusing on the Tingtao Scenic Area that restored some chill into my life when things weren't good at home. Wuhan serves its own unique sights!
There's no denying the mighty Yangtze River is another water winner in Wuhan, that surging river separates Hankou and Wuchang in a majestic fashion. I paid my admission to see Wuhan's flagship tourist attraction, the Yellow Crane Tower gave me my first epic view of the Yangtze River when I visited in August 2015, the skyline looked like there was a long way to go but there's a hidden charm to Wuhan. Delving into a pivotal moment for Wuhan and the rest of China I checked out the 1911 Wuchang Uprising Memorial museum to see where Dr. Sun Yat Sen pioneered the first steps for China to become a republic away from the rule of Dynasties, even though most of the exhibits were in Chinese it inspired me to look for other Dr. Sun Yat Sen sights across China, this Wuhan point of interest has to be my favorite tourist spot of all time in this city! I still have more places to see during my final chapter of living in Wuhan, I better get to it before the end of July this year WUH!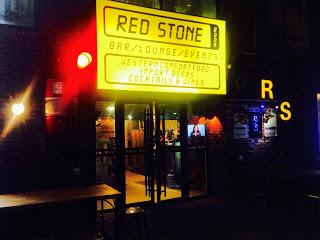 Chinese food is a complete different story in China, across this vast nation each city has its own speciality dish. Wuhan's go to food has to be 'Re Gan Mian' that means Hot and Dry Noodles in English, those peanut flavoured spiced noodles are a breakfast favorite of mine and many a Wuhaner! Toast and cererals are luxury choices because western style bread is hard to come by and most Kellogg's cereals are imported from places like Australia or Germany so Re Gan Mian only sets me back 4 RMB, which is about 47p! Captured to the left is Youyi Road's Red Stone Room, a western comfort food paradise that was introduced to me by my best one, Fiona! Not for the everyday we frequent RSR on the weekends to enjoy their freshly made burgers, pastas and other home-cooked delights. I tried the Full English Breakfast the first time and it cured my red wine hangover instantly! Red Stone Room is a firm favorite of ours!
China has one thing right, McDonald's restaurants in China have a home delivery service and I am not ashamed to say that I am a regular customer! I don't use this service all the time but it comes in handy after a big night out when I don't want move or when I can't move because I'm so ill from the previous nights' drinking. I also make use of this service occasionally on a Monday night as I arrive home later after my after school English lesson that I teach at my Guanggu based Kindergarten. Muslim food in Wuhan is a winner, I adore dishes that are from Lanzhou in the north of China. Close to my Kindergarten I can get some great Lanzhou Chow Fan or a Roujiamo for next to nothing because that school dinner is a no go! I definitely don't praise Wuhan enough, certain shady business does get on my nerves but when all is said and done I wouldn't of changed a thing! Red Stone Room satisfies our hometown cravings, Wuchang served a cracking Uprising Memorial and the Yangtze slays!
Oh Wuhan! 
Joseph Harrison