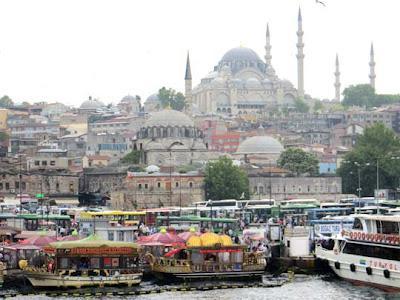 Istanbul, View from the Galata Bridge
I have just returned from a writing workshop in Istanbul, Turkey, four days jam-packed with writing, sight-seeing, and getting to know both American and Turkish writers.  The workshop grew out of a Writing Istanbul, a program developed for Turkish writers by Yesim Cimcoz, and adapted for a group of American writers led by Sheila Bender of Writing it Real and Susan Bono, editor of
Tiny Lights
.  Our headquarters was a small, family run hotel where most of us stayed and which had a small lounge where we could gather.  Each day included a morning or afternoon writing workshop inspired by our sightseeing during the rest of the day.  Our excursions included visits to the Hagia Sophia and Grand Bazaar in the historic section of Istanbul, climbing the Galata Tower for a 360 degree view of the city, watching a performance by whirling dervishes, wandering the narrow shop-lined streets, a boat trip to one of the Princes' Islands, and more, all enthusiastically led by Yesim and her colleague Fusun.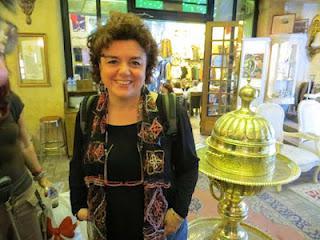 Yesim Cimcoz, of Writing Istanbul
One afternoon we met Turkish writer Jale Sancak, who talked about her short stories and writing process.  (Yesim acted as translator, but Jale was so expressive in her manner, that we could get the sense of what she was saying even though she was speaking Turkish.) We met at the Literary Cafe Edebiyatcilar Kiraathanesi in Sultanahmet, a gracious tall ceilinged coffeehouse reminiscent of Paris or Vienna, offering coffees, teas, and pastries.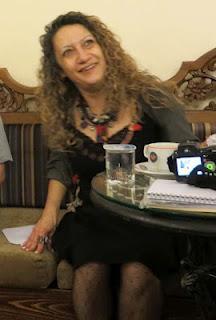 Turkish Author, Jale Sancak
Another writing-related excursion was to the newly opened
Museum of Innocence
, a complex realization of the novel of the same name by Nobel Laureate Orhan Pamuk.   In the story, an identical museum is created by the main character of the book (Kemel Basmaci) as a monument to the two women in his life. I had not read the book, but now that I have been to the museum, I plan to.  As I always do when I travel, I kept a daily diary of our activities to help me remember everything we did and saw.  Now that I am home, I will use it for inspiration as I digest my experiences and put some order to my thoughts about this full and stimulating trip.