Will air-conditioners, central heating or ventilation systems be things of the past?  Well, If you need to alter your body temperature either way, a bracelet called "Wristify" can do that for you!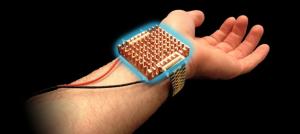 The device is developed by four MIT students, and it works on the principle that if one part of the body is heated or cooled, the entire body will feel warmer or colder. Team's main purpose is to cut the quantity of energy actually used to heat or cool entire buildings.
The work is currently at prototype stage and the gadget resembles a wristwatch with a custom copper-alloy-based heat sink; this being attached to an automated control system that it can run for up to eight hours with its lithium polymer battery. System adjusts the intensity and duration of thermal pulses that are transferred to the heat sink based on readings from thermometers integrated into the apparatus that measure external and body temperature.
Let's see if wristify is to become a long-term global investment or a short term fiasco!