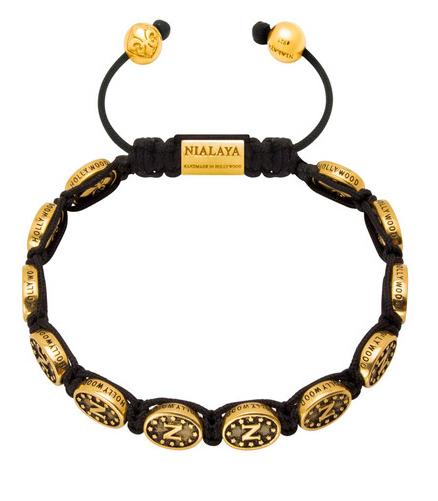 A great golden bracelet by Nialaya
When it comes to wearing jewelry, there is a very wide range of accessories that can be worn by men. Bracelets have become quite popular over the last two or three years as many men decided to incorporate them into their wardrobes. Some decided to refer to men's bracelets as wristwear or brocelets, but in the end, what's in a name?
While influential brands and media outlets promote bracelets as a highly fashionable trend, we decided to write about what every man should look for when he wants to put some jewelry on his wrist.
Bracelets for men come in all shapes, sizes and designs and therefore we can assure you that there is something on the market for every taste and style. Nialaya is a great brand that makes handmade bracelets in Hollywood. Their brand offers everything from snakeskin bracelets to golden or diamond bracelets. We like them very much because their designs are carefully crafted and look subtle and elegant but they also have a very bold presence at the same time. The Nialaya bracelets are a good example of what accessories should be: a statement, noticeable and of high value, but at the same time they should be subtle and support the rest of your look.
What's great about bracelets made from precious stones or gold is that their naturalness makes them shine, but their design makes them valuable. No wonder many celebrities from different domains are wearing them: Robert Downey Jr., P. Diddy and Joe Manganiello are just some of the male celebrities wearing these bracelets.
Types of bracelets
Bracelets come in a lot of options, regarding the fabric, style and design and we are going to look at each of the main categories and discover how they should be worn and what message they convey.
Leather bracelets
Leather is very elegant and stylish material. Anything made from genuine leather is an indicator of quality. A man wearing a leather bracelet is one who appreciates quality workmanship and natural fabrics. Leather bracelets are extremely versatile and go pretty much with every kind of outfit. They can be dyed or natural, so make sure that the color of your bracelet is found at least more time again your look.
Metal bracelets
Metal bracelets can come in a variety of designs: from thin to thick, from chains to single-piece styles, the options are endless. Bracelets from precious metals are usually more formal than other styles, so they should be worn with dressier clothes. Keep in mind that gold and silver are both neutrals, so it's OK to mix them if you decide to wear other accessories as well.
Beaded bracelets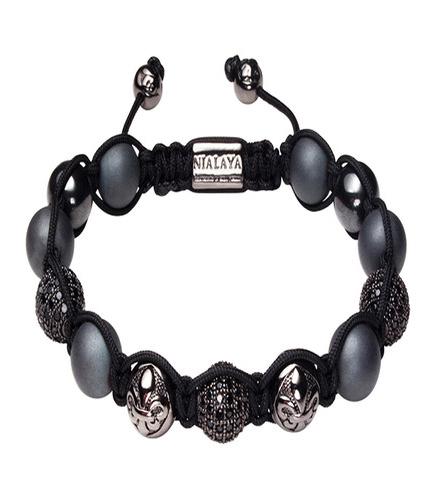 A multi-precious stone bracelet by Nialaya
Beaded bracelets are definitely the peacock's tail. They are extremely bold and flashy and can take anyone's eyes. Beaded bracelets are great if you want to use them as statement accessories. You can wear them with other bracelets or with a watch. We would not recommend wearing more beaded bracelets at one time. Instead, opt for a good one and use it as your main bracelet, while the other ones should only come in its support.
The beaded bracelets from the Nialaya brand we mentioned before are made with precious and semi-precious stones considered to have healing powers. According to them, each stone has a function that the wearer can use to channel and direct certain energies in his life. If you are a believer in the healing power of stones, these are definitely bracelets you should check out!
Woven bracelets
Woven bracelets are the casual one in the bunch. They are perfect for guys who like playing the guitar in the park or having a picnic in the woods. They express extreme casualness, an easygoing mindset and a passion for all things natural. Woven bracelets are usually colorful, so wearing them with other colorful clothes is probably the best way to go. We don't recommend wearing colorful bracelets with neutral colors (such as black, white, beige, gray, khaki, etc), as the visual center of your look will then become your wrist.
Bracelets and occasions
Just as your clothes, your bracelets should be appropriate for the on which you will occasion you will be wearing them. There are formal settings, semi-casual settings, semi-formal ones and very formal ones. The rule of thumb is that your bracelet or bracelets should be in tandem with the rest of your outfit. This means that you should not mix a bracelet made from a common material with a very special suit made from luxury fabrics.
Leather, metal and beaded bracelets are appropriate for almost all types of settings (it also depends on the design of the bracelet), while woven bracelets should be only kept for casual occasions.
Accessorizing bracelets with your clothes and other accessories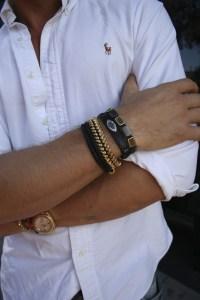 Regardless of which style bracelet you choose to wear, or whether you put more than just one piece on, there is one big rule every man needs to follow: you need to be color-coordinated.
It is important to know how to match the colors of your clothes, but you don't need to create a color scheme just for your bracelets. The color or colors found on your bracelets need to come along at least one more time somewhere in your outfit. If your bracelet is green, you should wear at least one other green item.
Furthermore, if you are wearing a very colorful outfit, you can go crazy with your bracelets and wear a lot of them in many colors, but in this case you need to make sure that you are keeping them as much as you can in the same saturation. We don't recommend wearing strong solids with chalky bracelets for example. It is important to follow a few rules so that your overall aspect is unitary and consistent.
We also recommend that you don't mix extremely different styles. If you are wearing a Pink Panther t-shirt, we don't advise you to wear precious stones on your wrist.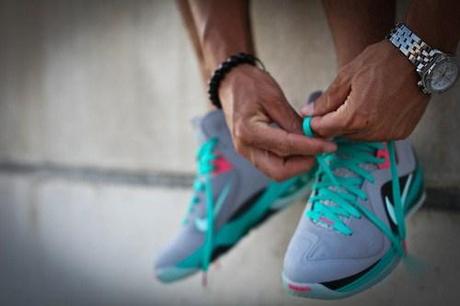 Always make sure you keep your accessories in the same line with your clothes!
The very same rule applies for matching your bracelets to your other accessories. Here is a tip on how to tell whether they work together well or not: Before you put your accessories on, lie them down before you and take a good look at them. If they feel like they are from the same group, you can put them on, if not, try seeing which ones don't match. It's like that "one of these is not like the others" test. For example, a golden watch won't match a string bracelet made by an artisan at a fair. Be consistent is the rule we can't repeat enough! Don't forget that your accessories should always be proportionate to your body size: if you are a bigger guy, you can wear bigger bracelets, but if you are a man with a thin frame, you should stay with the slim bracelets. In the world of body sizes and accessories, opposites don't attract.
Also, as a very obvious rule: never wear the same accessory twice. There is no reason to wear the same bracelet twice, both on your right hand and on your left one.
To conclude, we need to add that while bracelets are great ways of expressing yourself, and that they can be extremely versatile pieces, which is why we truly recommend getting a few, they also convey messages you might not be aware of. For example, wearing slap bracelets will make you appear more immature than you probably are and wearing too many bracelets at the same time is a desperate look.
If you are hesitant about wearing bracelets, you can try out small and see how it goes! While it might be hard to decide on the type of bracelet you want to purchase, you can make it easier for you to decide by studying your wardrobe: see what you already own and think of what kind of bracelet would go with your clothes.
The right bracelet can complement your entire look and, why not, make your wrist look its best!
Fraquoh and Franchomme
P.S. Do you wear bracelets? Why? What type of bracelet do you prefer? Should one wear more bracelets at one time? Share your thoughts in the comments below and keep the conversation going here on our social media!
Share on Tumblr
0
'