I'm not sure what to write about this, other than it is a helluva novelty, and the sort of collectible that should remain legal.  I doubt it is terribly practical for self defense, but at least it has an alternate use, for which it is better suited, so it isn't a complete waste.
All I can say is someone had way to much time on his hands to design this, and way too much gold to execute the design, LOL.
From MSN money
, this came right after the solid gold toilet:
9 crazy ways to own gold
The shiny metal's price has soared, but owning it on paper or storing it in bars isn't a lot of fun. From bathroom fixtures to a gold iPad, here are 9 unusual ways to buy gold.
By Kim Peterson, MSN Money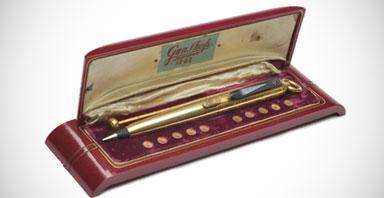 Gold pencil-pistol
A gold-plated pistol that looks like a pencil? Sounds like something James Bond (who will play the villain in the next Bond flick?) would carry in his pocket.
Bling details. The pencil-pistol was made in 1948 by the late Maharaja of Jodhpur (see pics of his royal palace, now a luxury hotel) as a present for the last Viceroy of India, Technabob reports. The pencil's tip comes off, revealing a 2 3/4-inch barrel. 
I found out a little bit more about this piece from a June 2010 article:
This gold-plated pencil that would seem to be a prized possession of some billionaire is actually a gun with a concealed trigger and a 2 3/4-inch barrel that forms a .22 pistol. This "pencil pistol" belonged to Lord Mountbatten, who received this deadly gift from an Indian Maharaja as the last Viceroy of India. This 7-inch-long pencil pistol made in 1948 to the Maharaja of Jodhpur's own design is now placed on the auction block in London to fetch nearly £1000 on June 24. This rare and unique masterpiece comes with its own display case along with a loose label stating its presentation to the Earl Mountbatten of Burma.