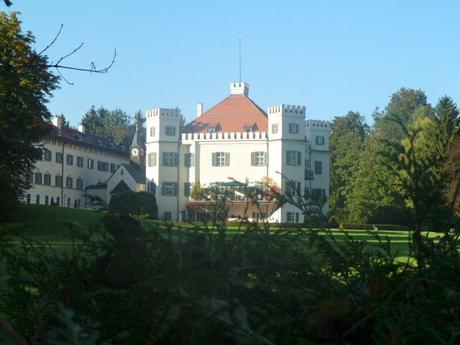 Would you want to live in a castle?  Several months ago I saw that it was possible to live near a castle when I visited the  Castle Ruins in Stuttgart, but I hadn't thought it would be possible to actually live in a castle – until I visited Schloss Possenhofen on the Starnberger See (Starnberg Lake) located just 32KM SW of Munich.
Schloss Possenhofen was built in 1536 and was where Austrian Empress Sisi, King Ludwig II's cousin and confidante, spent her summers.  Over the years it became dilapidated and was being used as a barn for chickens, rabbits and goats.  The castle was  almost demolished as it was in such bad shape and parts of it were in danger of collapsing.  Enter some gutsy investors/visionaries who decided to restore the castle and convert it into condos and voila, it's now possible to live in a castle along the western shore of the Starnberger See!
You can imagine my excitement and the anxiety my poor husband experienced about my new discovery.  "We could just inquire about the prices" I reasoned.   "It's lake front property, close to Munich, in an old castle, whatever the price it's too expensive.  Besides there's no balconies" he reasoned back.  "Details, details" I muttered back, back I know he's right.  My dreams of living in a castle likely won't be coming true anytime soon.  In the meantime I'll have to be content sunbathing along the shoreline that was once only reserved for the Duke's family.   Would you want to live in a castle?
This photo has been submitted as part of Travel Photo Thursday, a weekly travel photography showcase organized by Nancie at Budget Travelers Sandbox where you can see more travel photos from around the world.
Don't forget to join in the fun of Food Friday tomorrow.  Write a food or drink related post of any kind on your blog, or link to an old post, include the page link from Food Friday on your post, then  come back here and place your link in the Mr. Linky form at the bottom of the post.  Check out last week's Food Friday to see how it works.