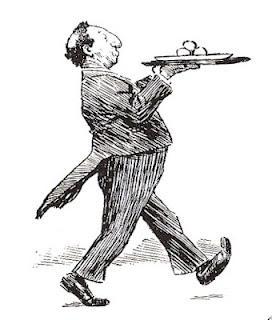 Here's Ann with news from yet another Top Table…
The White House not only releases details of dinner menus – there is even a video of the preparations that you can watch on line HERE.
At last week's State Dinner, David and Samantha Cameron ate Crisped Halibut with Potato Crust, on a bed of braised baby kale from the White House garden, and spring garden lettuces with shallot dressing and a variety of greens.
Then they all tucked into Bison Wellington, a "great marriage of the two countries". And for dessert, a lemon sponge pudding 'in the British style', with Idaho huckleberry sauce and Newtown Pippin Apples, a variety that was grown by Thomas Jefferson and George Washington, and was a favorite of Benjamin Franklin. Newtown Pippins were sent as a gift to Queen Victoria, who apparently enjoyed them.
The Newton Pippin was introduced into England from the USA in the 1750's. It doesn't grow well here, as it needs a hot summer and autumn, but large quantities were exported to the UK in the 19th century - thanks, doubtless, to royal approval, and to the removal of import duty on them.
Royal approval still holds sway, incidentally. Fortnum and Mason has been crowded out since the Queen, the Duchess of Cornwall and the Duchess of Cambridge visited the other week and were pictured looking excitedly at their F&M hampers. Most popular item? Allegedly the Fortnum's dog biscuits – 'hearty treats for happy hounds'.
For more food gossip join my Foodies' Walk this Saturday March 24 – 10 am at Monument tube, Fish St. Hill exit.