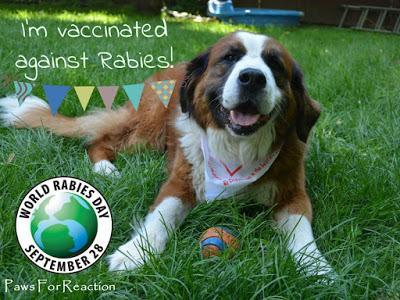 Photo by Stacey McIntyre-Gonzalez Copyright©
World Rabies Day: Why I vaccinate my pets against rabies
September 28 is World Rabies Day and 2016 marks the 10th annual World Rabies Day. According to theRabies Alliance Organization in 2007, there were over 7,000 cases of animal rabies reported in the U.S. Most of these cases were in wildlife, but these animals can expose pets and humans to rabies. In the U.S., typically 1-3 cases of human rabies are reported per year and CDC confirmed one case in 2007. Even though North America is not an endemic region for rabies, it is still prevalent enough to potentially put my pets- and myself- at risk. Even if you don't encounter a lot of wildlife, mice, rats and bats can still enter the home and come into contact with your dog or cat. Once you or your pet are infected, there is no specific treatment. According to the World Health Organization FAQ's on Rabies "Human rabies caused by the classical rabies virus continues to be almost 100% fatal, with no specific treatment available anywhere in the world."
"There are only seven recorded cases of human rabies survivors in the world, who received intensive nursing care. Almost all of them received preventive/ pre-exposure rabies vaccination that might have modified the course of illness. Only one case of human rabies caused by a bat bite did not receive pre-exposure vaccination but survived. However, this case was not caused by the classical rabies virus."
Celebrate World Rabies Day with Paws For Reaction and vaccinate your pets against rabies! Check out the infographic below about rabies endemic regions and what to do if you or your pet is bitten.

What to do if you are bitten by an animal 

-Wash the wound thoroughly with soap and water for at least 5-10 minutes. This is the most effective first-aid treatment against rabies.
-Contact your physician immediately.
-Report the bite to the local health department. If necessary, you will be assessed for rabies post exposure prophylaxis.
-Prompt and appropriate treatment after being bitten and before the disease develops can stop rabies infection and prevent the disease.
*Information source from Rabies Alliance Organization