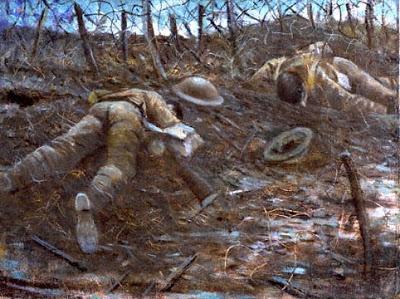 'Paths of Glory' by C. R. W. Nevinson (1917)
The First World War
centenary
will soon be upon us. I've been looking for some good books about the Great War. As noted in
a previous post
, I've plunged into Edmund Blunden's
Undertones of War
. Other classic books about the War are Robert Graves'
Good-Bye to All That
and
Siegfried Sassoon
's books, and, of course, there's
Remarque
's
All Quiet on the Western Front
. I've already read Ernst Junger's
Storm of Steel
.
With the help of the University of South Carolina Press' site for
The Joseph M. Bruccoli Great War Series
(and this list of WWI fiction), I've been able to find some good books by British, German, Australian, American, and French authors, but it's proven difficult to find Canadian books about the War. Of course, there's Timothy Findley's
The Wars
, which was mandatory reading in my high school and which won the 1977 Governor General's Fiction Award, but I'm looking for novels or autobiographical works by people who served in the War.
One frustrating matter in my search is that some apparent Canadians turn out to have been Yankees. For instance, I was excited to find a well-reviewed book by a veteran of the Canadian Expeditionary Force named Charles Yale Harrison, but he was born in Philly and spent most of his life in NY. (His book,
Generals Die in Bed
is
online
.) Another American who signed up in the Canadian army was
Humphrey Cobb
, whose
Paths of Glory
(
review
) was the basis of a
movie by Stanley Kubrick
.
It looks like many of the Canadian books were superficial exercises in 'rah, rah' patriotism. There are two books by Canadians, though, that look to be more realistic and rewarding.
First, there's
Peregrine
Acland's
All Else
is Folly
. Published in 1929, it has long been out of print, and the only used copies that I can find cost more than $100. Thankfully, it looks like
a new edition is being prepared by Dundurn
. The novel includes many literary
allusions
(inc. some to Nietzsche). Ford Madox Ford wrote the preface. The book received warm praise in a letter to Acland
from Bertrand Russell
.
Here's the favourable review
that ran in the
New York Times
.
Acland
, a Torontonian, worked in advertising and, in 1942, began six years of employment in the 'secretariat of the Prime Minister of Canada' (according to a note in the
NY Times
[Jan. 28, 1949]). After that, he returned to advertising and was selected to head the Toronto office of Day, Duke, & Tarleton, Inc. (says the same
NY Times
note), a New York agency that was created in 1946 'by veterans of J. Walter Thompson Co., Foote, Cone & Belding, Lennen & Mitchell and William Esty & Co. in New York' (sounds
Mad Men
-ish).
The other Canadian novel is
God's Sparrows
(1937) by Philip Child, who was an artillery officer from Hamilton, Ontario. He became an English professor at the University of Toronto. Unlike Acland, Child wrote several other novels. He won a Governor General's Literary Award in 1949 for
Mr. Ames Against Time
.
Why are there so few good WWI books by Canadian veterans of the War?
George Simmers conjectures that 'the reaction in the Dominions against the disillusioned war books of the late twenties and early thirties went further than that in Britain.'
Perhaps the hostile climate discouraged other disillusioned veterans with literary talent from writing publicly about their experience.
For more information about the Canadian literature on the Great War, see this entry in the
Canadian Encyclopedia
and this site at Library and Archives Canada. Also, there are many relevant posts on Brian Busby's blog and at
a blog that is devoted to Canadian war literature
. There's also this pdf by Eric Thompson, 'Canadian Fiction and the Great War'.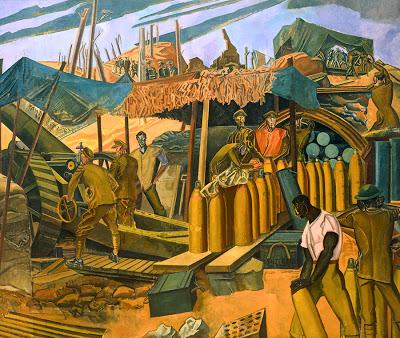 'Canadian Gun Pit' by Wyndham Lewis (1918)