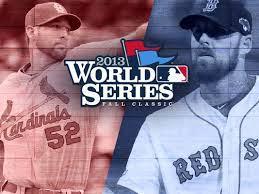 This will be quick since I didn't get watch much of the game.  I heard the 7th on the radio and the 8th and 9th I saw at home.  From what I can tell, Ferrell botched the easy decision to bring Breslow in for Lackey to face John Jay.  Instead, he waited, Jay got on, Breslow came in to face some right handed hitters and then threw the ball into the stands on a bad throw.  Who knows how it would have gone down if Breslow came in to face Jay but I would have liked my chances with that match up.
Two other things that are bothering me at this point and they are in the line up construction.
1.  I know we all love Jonny Gomes.  We love his effort, his energy and his beard.  However, the guy isn't really hitting the ball.  Daniel Nava finished 8th, read that again, EIGHTH, in the American League in batting average this year and he's basically a pinch hitter at this point.  I'm not saying he needs to play every game, I'm just saying his only at bat should be coming in cold in the 9th to face a guy throwing 98mph.
2.  Why is Stephen Drew still in the batting line up?  He's batting 4/42 in the playoffs.  One of those hits was the pop up that fell in between Wainwright and Molina in Game 1 so that doesn't count.  I get that he's a lefty and he's solid defensively, but why not throw a Middlebrooks/ Bogaerts combo out there for one game and see how it goes?  What's the harm in that?  Bogaerts can stick it at shortstop and Middlebrooks should at least get a chance to swing the bat right?  Just doesn't make sense to keep running out a guy who'd just about guaranteed to make an out every time.  Plus you'd save one of your best defensive players for the late innings.  Win, win in my book.
Game 3 is Saturday and Peavy gets the ball.  He'll need to be really good for Boston to have a chance.  Joe Kelly, another one of the seemingly endless supply of good pitchers for the Cardinals, gets the call for St. Louis.  I think we can hit him but it'll be interesting to see no Napoli or Papi in the lineup.
Still sticking with Sox in 6.