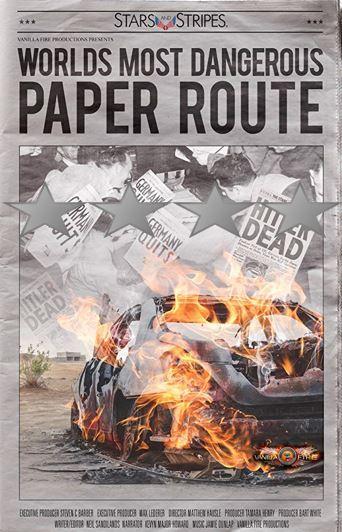 Director: Matthew Hausle
Writer: Paul Freedman (Screenplay)
Plot: The story of the unsung heroes who deliver the 'Stars And Stripes' military newspaper to soldiers in Afghanistan. Part of the film shows the paper delivery to Camp Lightning after 90 minutes on a Chinook helicopter, two miles up a mountain, and further travel on Humvees.
Runtime: 58 Minutes
There may be spoilers in the rest of the review
Verdict: Important to See How the Stories are Told
Story: World's Most Dangerous Paper Route starts by telling us what the Stars and Stripes newspaper is and why it was created, to give the American soldiers in the military a chance to read about the stories of conflict they are fighting and has been running for years now, still being used today. We get to see how the journalists and photographers were able to capture some of the most shocking, important and special moments in conflicts.
Thoughts on World's Most Dangerous Paper Route
Final Thoughts – When you look at this documentary you get to see just a newspaper can help tell the truth about war, be it for the real world or more importantly for the soldiers that want to know what they are fighting for. The insight these journalists have in beyond brilliant, we get to see how they can have intimate stories that show how united the soldiers are. We get to see how journalists have worked from the early 1950's right up to the current affairs issues that have been able to show the conflict, we get to see how the paper has evolved to deal with the change in technology. We get to see the good the paper has created to survivors of the wars. One of the weaknesses comes from the almost glossed over moment of looking at how difficult to deliver the paper is, which wile learning how important the paper is, it would have been interesting to focus more on how difficult it would be to spread the word this paper does. The documentary does connect the members of military that will always be one of the go to for the many people in the services.
Overall: Headline worthy documentary.
Rating

Advertisements