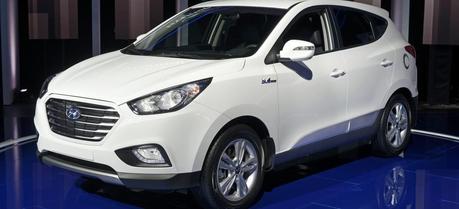 Hyundai Tucson Fuel Cell. (Credit: Hyundai Motor Company)
Hyundai this week announced plans to offer its next-generation Tucson Fuel Cell vehicle for the U.S. market for $499 per month, including unlimited free hydrogen refueling and At Your Service Valet Maintenance.
The mass-produced, federally certified hydrogen fuel cell car will be available starting in Spring 2014 at several Southern California Hyundai dealers.
"Hydrogen-powered fuel cell electric vehicles represent the next generation of zero-emission vehicle technology, so we're thrilled to be a leader in offering the mass-produced, federally certified Tucson Fuel Cell to retail customers," said John Krafcik, president and chief executive officer, Hyundai Motor America. "The superior range and fast-fill refueling speed of our Tucson Fuel Cell vehicle contrast with the lower range and slow-charge characteristics of competing battery electric vehicles. We think fuel cell technology will increase the adoption rate of zero-emission vehicles, and we'll all share the environmental benefits."
The Hyundai Tucson Fuel Cell will initially be offered to customers in the Los Angeles/Orange County region for $499 per month for a 36-month term, with $2,999 down.
"When we spoke to customers interested in driving a hydrogen fuel cell vehicle, many wondered what the cost of hydrogen would be," said John Krafcik. "To ease those concerns as we build-out the hydrogen refueling network, we thought covering this cost for these early adopters in the monthly payment was the best approach, and consistent with other aspects of our Hyundai Assurance program," said John Krafcik.
The Tucson Fuel Cell begins mass production for the U.S. market in February 2014 at the Ulsan, Korea assembly plant that also manufactures the Tucson gasoline-powered CUV. The car's features include:
An estimated driving range up to 300 miles (based on internal tests; EPA ratings to be determined by launch)
Capability to be fully refueled in under 10 minutes
Instantaneous electric motor torque (221 lb·ft)
Further supporting hydrogen infrastructure development, California approved a plan in October 2013 to develop up to 100 hydrogen refueling stations in the state over the next several years. This recent California initiative dovetails with increased government support of hydrogen infrastructure development at the federal level, such as H2USA.