Because it's Friday and because the workload lobotomy has left my office mates either a). planning vacations six months from now, b). stepping in as judges for "So You Think You Can Dance," or c). examining the ingredients of their deodorant for potential carcinogens… I decided to take a break and catch up with the local news.
Apparently, much to our good fortune, the largest toilet in the world opened up recently in Chiba's own backyard of Ichihara. Costing $125,000, this women-only facility is really an overly fragrant/ girly stall of monstrous size. That is, the actual toilet itself ain't all that, but your glass encasement surrounded by a 200-square meter garden is meant to, uh, tickle your fancy. And attract a wave of travelers of a very special kind. Another contender for the title goes to a big bowl in Columbus, Indiana, but you can't  drop the kids off at the pool in that one (you may, however, slide down it).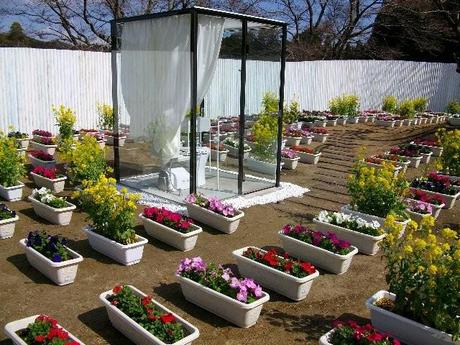 So in praise of poo, I just might stop by to, er, smell the roses.