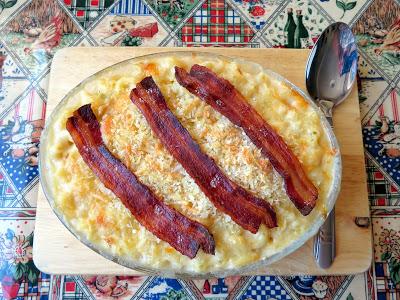 One of my favorite things to make and eat is macaroni and cheese.  I like to make it from scratch, using cheese that I have grated myself, and a rich homemade sauce.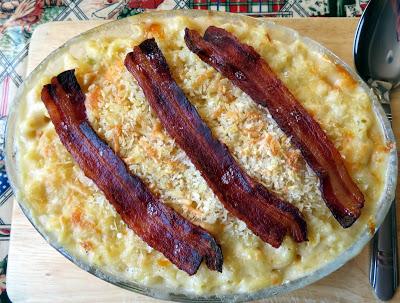 I call this the World's Best and it is not a claim that I make lightly. It truly is (in my opinion) the World's Best.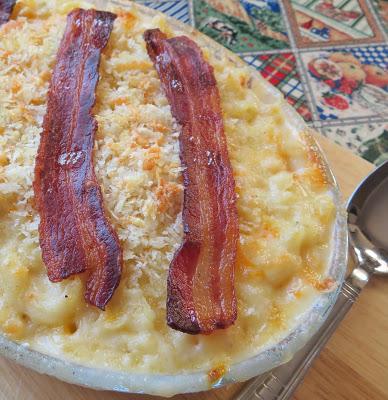 I have tried many, many different recipes. I love it done the old fashioned way which is pure and unadulterated, nothing but cooked macaroni, milk, chunks of cheese and lots of butter.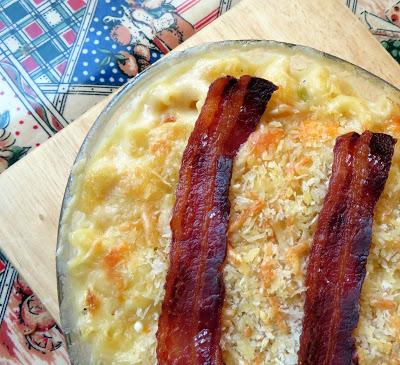 Seasoned with salt and pepper and baked until the milk is almost absorbed by the macaroni and there are gooey patches of delicious cheese scattered throughout . . . it is simple, old fashioned, and really, really good.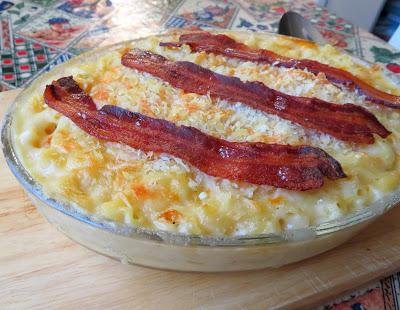 This is not that mac and cheese.  This on involves making a rich cheese sauce, which then gets layered in a baking dish along with cooked macaroni and more grated cheese.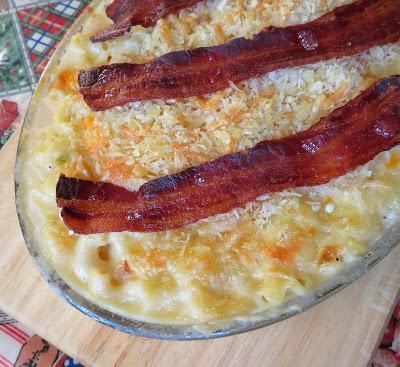 Surprisingly the cheese sauce is created with a mix of chicken stock and milk, which adds a depth of flavor and richness that I have never found in other cheese sauces.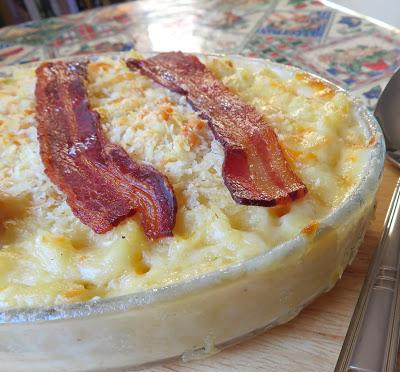 I also use a combination of cheeses.  Crumbly and rich strong cheddar  . . . .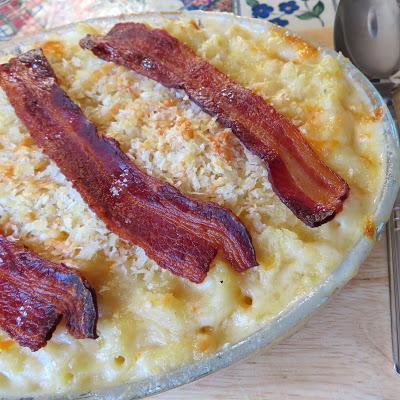 Nutty and sweet Gruyere cheese, which has beautiful melting properties and provides a lovely ooze factor (this is a type of Swiss Cheese) . . .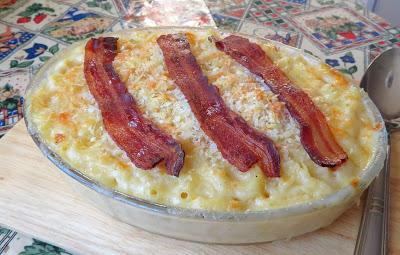 Red Leicester Cheese which is mild and creamy and bright orange in color. You can use more cheddar if you like, but choose a coloured one.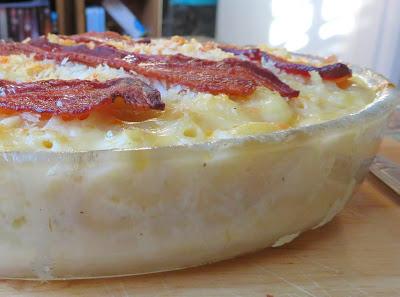 And finally grated Parmesan Cheese . . .  salty and piquant . . .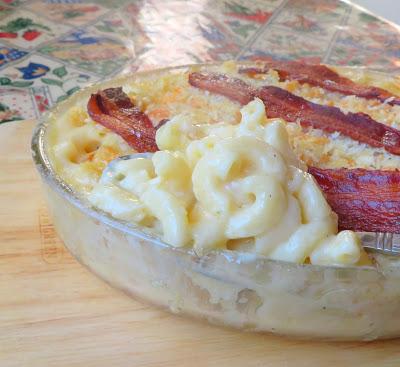 The three together are an unbeatable combination, which gets used partially in the sauce . . .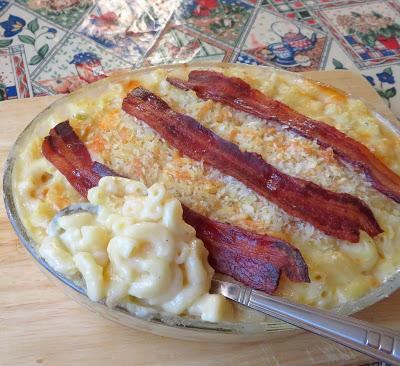 As well as being layered between the macaroni and the sauce.  Mmmm . . . .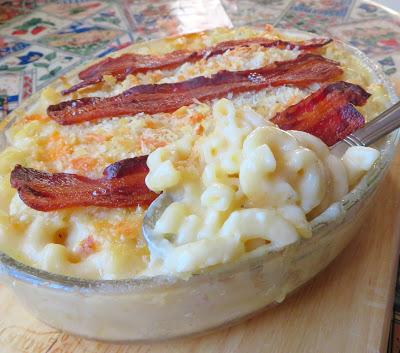 I top it with a mix of the cheeses and some dry bread crumbs.  Today I used Panko Japanese Bread Crumbs.  This provides a lovely layer of crunch.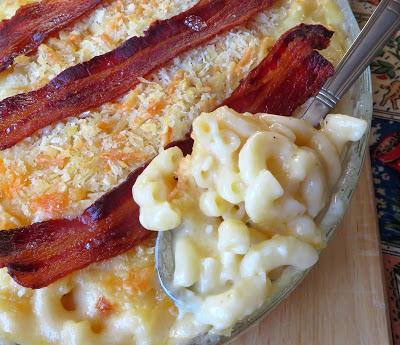 You don't want the macaroni to be crunchy . . .  but you do want a nice element of crunch on the top.  Well, I do anyways.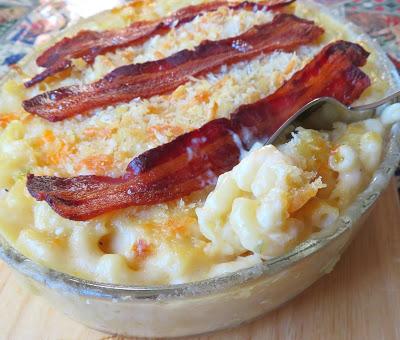 Today I added some strips of partially cooked streaky bacon . . .  I mean, bacon . . .  you can't go wrong.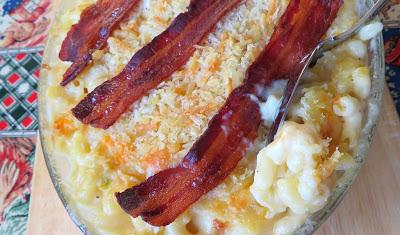 However if you want to keep it totally without meat, then just leave the bacon off.  Its not something I do all the time anyways, but I had it today and so I added it.
Yield:
2
Author:
Marie Rayner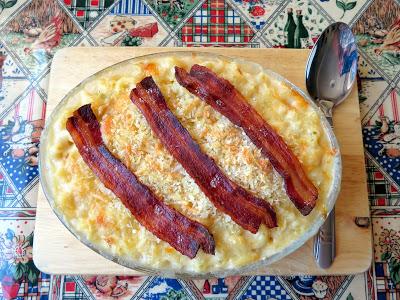 World's Best Mac & Cheese for two
prep time:
cook time:
total time:
Nothing says comfort quite like macaroni and cheese. This is, in my opinion, the very best version!  I have downsized it for two people.
ingredients:
225g of macaroni (2 cups)
2 TBS butter
1 1/2 TBS plain flour
240ml hot chicken broth (1 cup)
120ml  milk (1/2 cup)
60g  shredded Gruyere cheese (1/2 cup)
60g  shredded red Leicester cheese (1/2 cup)
60g cup shredded strong cheddar cheese (1/2 cup)
3 TBS freshly grated Parmesan cheese
freshly ground black pepper to taste
a dash of Tabasco sauce
For topping:
a bit of Parmesan, Cheddar, Gruyere and red Leicester cheese grated and mixed together with a few bread crumbs
instructions:
How to cook World's Best Mac & Cheese for two
Pre-heat the oven to 200*C/400*F. Lightly butter a large shallow casserole dish and set aside.
Grate all your cheeses and mix them together in a bowl. Set aside.
Bring a large pot of slightly salted water to the boil and add the macaroni. Cook according to the package directions, draining it while it is still a tad bit undercooked. Drain it well and rise with cold water. Set aside.
Make the sauce by melting the butter over medium heat in a heavy saucepan. Stir in the flour, mixing well and allow to cook for about a minute. Add the chicken broth, whisking it in vigorously until the mixture is thickened and smooth. Whisk in the milk. Heat thoroughly. Stir in 1/2 of the cheese mixture until it is well melted and amalgamated. Season to taste with black pepper and tabasco sauce.
Place about 1/3 of the cooked macaroni in the buttered dish. Pour over 1/3 of the cheese sauce. Sprinkle on 1/2 of the reserved cheese. Repeat layering until you finish up with the final 1/3 of the cheese sauce. Sprinkle the top with a final layer of the cheese bits mixed with the bread crumbs.
Bake in the heated oven until nicely browned and bubbling. Remove from the oven and enjoy!
NOTES:
If you can't get Red Leicester cheese, just use cheddar in its place. Gruyere can be substituted with Swiss cheese. Place your baking dish on a baking tray as it can bubble over.
Did you make this recipe?
Tag @marierayner5530 on instagram and hashtag it #EnglishKitchenCreated using
The Recipes Generator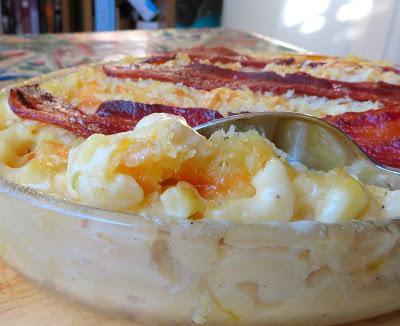 Altogether this is pretty fabulous.  Wonderfully down-sized for just two. A simple make.  All you need on the side is some salad and a crusty loaf.  Perfection at its best.