Since the debut of the original Hunger Games in March 2012, fans have been waiting excitedly for the story to continue. This November, the star-studded cast has taken to the red carpet for the latest of the trilogy: Mockingjay Part 1. As previously, the stars of the movie shine at the World Premiere, as well as on the screen.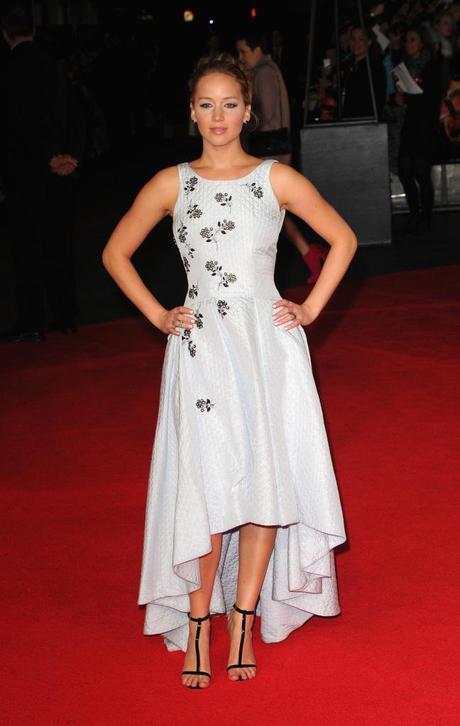 First, is the leading lady Jennifer Lawrence, who looks absolutely stunning in this white, quilted texture gown that has the on-trend high/low hem and black embroidered roses trickling across the chest of the dress and down her right side. Jennifer's choice in single strap black sandals coordinate perfectly with the gown, but keep the focus on the gown, where it should be. She also chose a soft colored makeup to blend well with the femininity of the dress.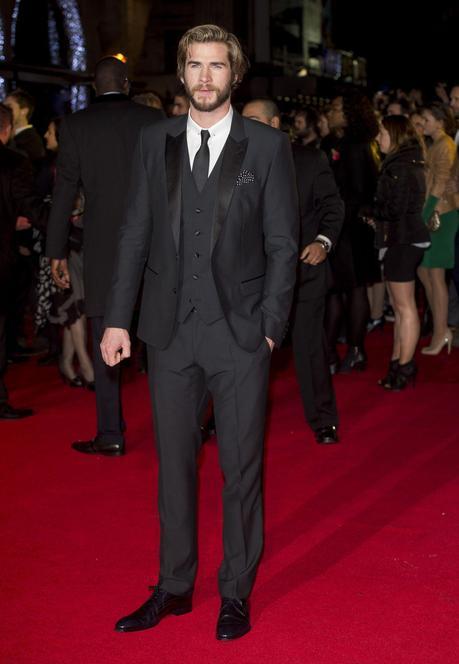 Next, is Liam Hemsworth, who looks debonair in his black three piece suit that is accented with a crisp white shirt, slim black tie, satin lapels, and black and white polka dot pocket square. Liam doesn't seem to get as much attention as his older brother Chris, who was just named by People Magazine as "The Sexiest Man Alive". Makes you wonder if there is any sibling rivelry in the Hemsworth household.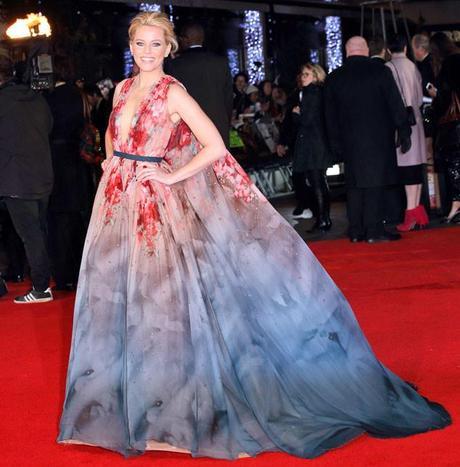 Another cast member of Mockingjay Part 1 to hit the red carpet at the World Premiere was Elizabeth Banks. It is hard to deny her beauty, even in her dramatic red and blue tie-dye like gown with the plunging neckline and cape-like train. The dress fits the character that she portrays in the Hunger Game movie series, which is sort of quirky, with lots of dramatic flair, but I don't know what made her choose this one.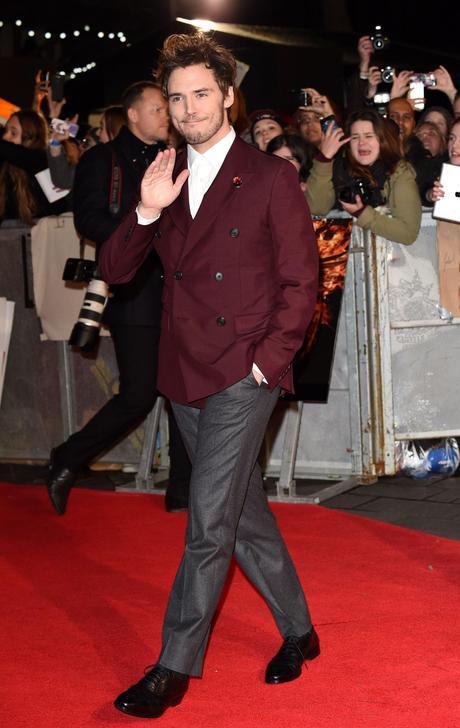 Lastly, is another male cast member to Mockingjay Part 1, Sam Claflin. For this premiere, he chose the fantastic color combinations of a burgundy, double breasted sports jacket and a pair of shimmering grey trousers. He keeps the focus on the jacket and pants with a white shirt, buttoned to the neck and black leather lace-up shoes.