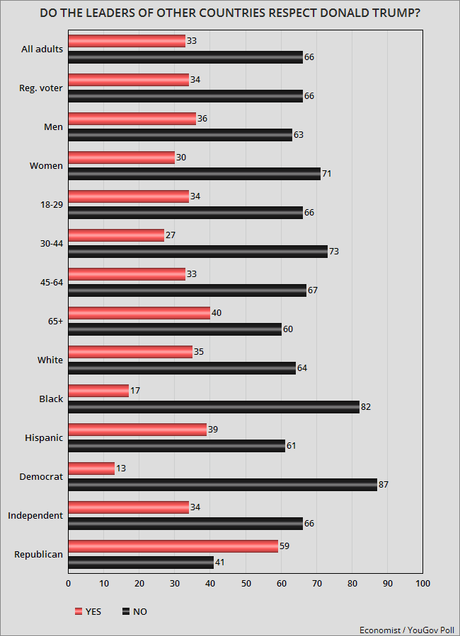 Donald Trump has attacked our democratic allies and praised several dictators (Putin, Duterte, Erdogan, etc.). This has resulted in a loss of respect for this country and for Donald Trump. And the American public knows this. In a new poll, 66% (about two-thirds) of the public says other world leaders do not respect Trump, while only 33% says they do respect him. And the same is true of a majority of almost every demographic group.
Only one group thinks world leaders respect Trump -- Republicans. Republicans still prefer to live in the false reality of Trump's imaginary world. They have no use for facts or truth. It just goes to show that the GOP is no longer a political party -- but a cult of personality without any values. The only thing that's important to them are Trump's lies. At this point, I honestly think Trump could walk up and punch them in the face and they would believe him when he denied doing it.
The chart above uses the results of a new Economist / YouGov Poll -- done between July 15th and 17th of a national sample of 1,500 adults (including 1,272 registered voters). The margin of error for adults is 3.2 points, and for registered voters is 3 points.