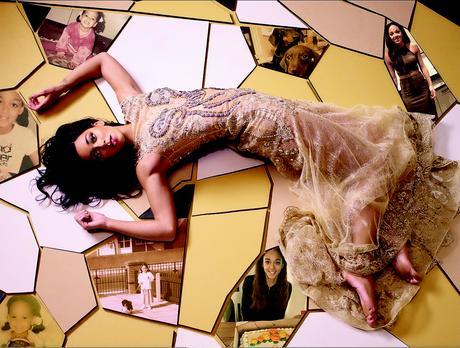 Future Rio Superstar Katarina Johnson- Thompson Unveiled As The Face Of Dulux's Colour Of The Year, 'Cherished Gold'
'Cherished Gold' revealed by Dulux as 2016's Colour of the Year
Stunning shoot shows heptathalete Katarina Johnson-Thompson in a new light
As the countdown begins, one of the world's best all-round athletes sets her sights on gold at Rio
Sporting star reveals cherished memories of home and how they've made her the person she is today
Today Dulux has unveiled sporting sensation and Rio hopeful Katarina Johnson-Thompson as the face of its Colour of the Year for 2016, 'Cherished Gold'. The young athlete, who is fast becoming Britain's golden girl of sport, stuns in a striking set of images celebrating the most cherished memories of her home life that have made her the competitor she is today.
The beautiful 23 year old, who holds national records for the Pentathalon, High and Long jump, was chosen to represent Dulux's Colour of the Year 'Cherished Gold' because she cherishes her life at home. The memories she's made there with friends and family are a comfort to her when away competing, and inspire her to make loved ones proud by going for gold.
Proud of her humble roots, the sporting phenomenon has been tipped for gold in Rio by former champion Denise Lewis, who recently described her as a "force" and one to watch in the impending Rio games. But despite her superstar status, Katarina still cherishes life back home, and describes her mum as "the biggest influence in [her] life" who encouraged her to follow her passion for athletics.
In exclusive photography and unique footage released this morning, Johnson-Thompson is shown surrounded by personal memories of home including returning home from sporting competitions, special celebrations with her mother and spending time with her two sausage dogs Chorizo and Bronx. The unique images, inspired by Gustav Klimt's iconic golden artwork, the Woman in Gold, show the sports star in a touching new light, celebrating the memories closest to her heart.
Katarina's collaboration with Dulux also draws upon the brand's over riding design theme for 2016 - 'Looking Both Ways', a theme that encourages us to both appreciate the past and anticipate the future. Looking ahead to the challenges of Rio and beyond, the shoot shows Johnson-Thompson looking back on her experiences and memories of her home and family. She reveals one of her most cherished possessions is her memory box that she keeps at home, containing special mementos from her childhood.
Dulux's hotly anticipated Colour of the Year is decided by a group of international experts and trend watchers across design; architecture, textiles, product design, graphics and research, and is a major influence across the lifestyle, fashion and beauty industry. This year's 'Cherished Gold' is a gold influenced ochre which is bright enough to attract attention and combines well with other tones.
Reflecting on the 'Cherished Gold' campaign, Johnson-Thompson comments: "2016 is such an important year for me, with 'gold' firmly on my mind and in my sights! I'm a massive home-girl at heart which is why I still train in Liverpool so I can go home and spend time with my Mum, Nan and dogs after a hard day's work. I've just bought my first house, I love it, especially as it's just around the corner from my mum, so I can still go home and cook dinner with her - some things will never change!
"I've enjoyed so many amazing memories in my home. I remember when my family made me this huge good luck sign to send me off to the World Championships in Bejing and hung it on the garage at the front of the house; I feel so lucky to have their love and support. I wouldn't be where I am today without their encouragement. Fronting Dulux's Cherished Gold campaign feels like a great way to celebrate those memories as it reminds me of how proud I am to be a normal Liverpool girl going for gold. I want to make my family, and Great Britain, proud!"
Rebecca Williamson, Dulux Senior Colour, Design & Content Manager, adds: "Gold and tones of gold are being used everywhere in the design world so for 2016 'Cherished Gold' is a natural evolution from 'Copper Blush', last years' Colour of the Year. As metallics continue to add that feel good factor, this ochre inspired hue will offer that little touch of glamour to our interiors. With 'gold' set to envelop so many moments throughout 2016, we couldn't have hoped for a better person to front our 2016 Colour of the Year. Katarina embodies promise and is set to be an athlete the nation will cherish - we have no doubt she'll deliver on being Britain's golden girl at Rio, too!"
To view Dulux's 'Cherished Gold' Colour of the Year 2016 video, starring Katarina Johnson-Thompson, please visit: https://youtu.be/uh6Mwc0HzsY
Further decorating inspiration and helpful tips can be found on the Dulux Colour of the Year website: https://www.dulux.co.uk/en/articles/colour-of-the-year-2016-cherished-gold
- Ends -
For further information about the trends, imagery or expert commentary, please contact the Dulux press office at Mischief PR on: 020 3128 6600 or [email protected]