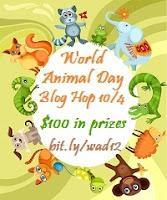 Today I am participating in the World Animal Day Blog Hop sponsored by Terri Giuliano Long and David M. Brown. I'm excited because this gives me an excuse to do something that I've wanted to do for a while - feature children's books. I read a lot of books with my daughters yet I haven't been blogging about them. I've contemplated adding a weekly children's book feature but I haven't gotten it beyond the thinking stage yet.
Even if children's books aren't your thing, you are going to want to keep reading because there are prizes to be won! Check out the Rafflecopter for the sponsored prize and then visit other blogs listed in the linky as some of them may be offering individual prizes.
Now that the housekeeping is out of the way, here are some of our favorite children's books featuring animals: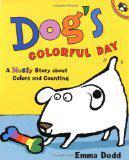 Dog's Colorful Day by Emma Dodd is a really fun book that takes Dog on an adventure. In each place, Dog receives a colorful spot of something that stains his white coat. The book encourages the reader to count the spots and name the colors. Elizabeth and I also like the sound effects as Dog receives each messy spot.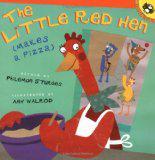 The Little Red Hen (makes a pizza) by Philemon Sturges is one of our favorites right now. The Little Red Hen decides to make a pizza for dinner but discovers that she doesn't have everything she needs to make it. She asks the duck, the dog, and the cat for help but they are all too busy. So she sets off on her own to various stores to gather the equipment and ingredients she needs. One of the things that I really like about this book is the use of repetition so Elizabeth can help me out with reading the story. This is definitely one to read with mom or dad though because it contains unfamiliar words like eggplant, delicatessen, and anchovies.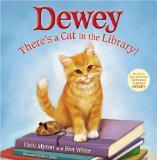 Dewey There's A Cat in the Library by Vicki Myron and Bret Witter is the children's version of Dewey: The Small-Town Library Cat Who Changed the World, also by Vicki Myron. This is a great true story about a cat who was found at a library on the coldest night of the year. Vicki, the librarian, cares for the cat and gives him a home at the library. In this story, Dewey interacts with the children at the library and learns about them even as he teaches them about cats. One of my favorite things about this book is the gorgeous illustrations.
a Rafflecopter giveaway