In preparation for my upcoming solo show in November I've been working hard at making more prints and getting them framed. As if that wasn't enough I've also started a new venture selling vintage graphic art in reproduction. I'll come back to that in a later post, but first I want to talk about the new work.
The first prints are a pair of images called Transect I and II. These take their title from the geographic term meaning a straight line or narrow section through an object or natural feature or across the earth's surface, along which observations are made. The images represent an imagined line from the head of the dale to the lower lying land at its foot. Transect II is more stylised in its representation of the landscape but otherwise the subject is the same.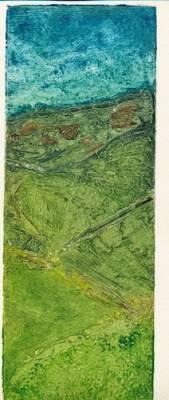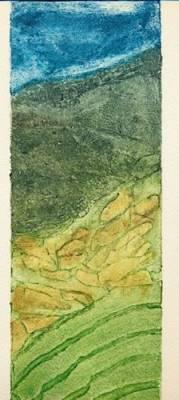 The second image is also Dales related, depicting Upper Teesdale in County Durham.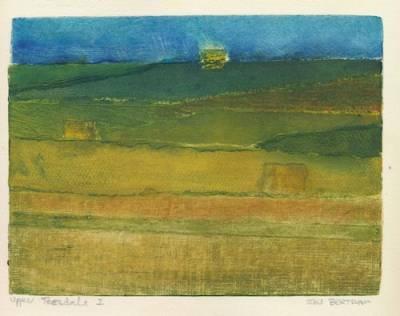 It is often a matter of judgment whether images are sufficiently alike to form an edition or whether they should be considered separate and discrete images. In the case of Transect, I felt I had taken the images as far as I wanted, whereas with Upper Teesdale there are still ideas I want to explore. Accordingly I have numbered the Teesdale images, not as an edition but simply as individual prints. I have done this before with my Dales Memories series, and in fact one of those is the third image I want to show.
To refresh, the Dales Memories images are made with three separate collagraph plates in a variety of combinations and colours. Sadly one plate has somehow vanished although I could probably recreate a reasonable facsimile if I desired. The image below is from that missing plate used on its own.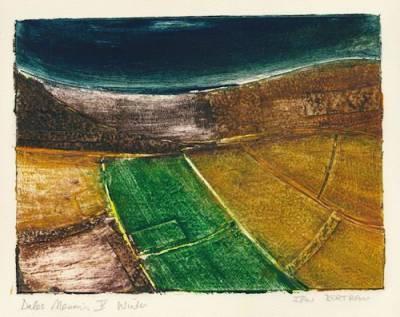 The image below is from the same series, showing the use of two plates.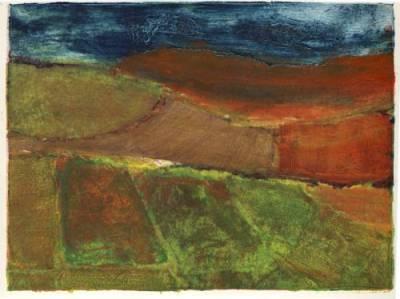 As with Transect, the three plates used in the Dales Memories series are increasingly stylised. I may yet return to the Transect plates to create a combination image in similar fashion, but I will need to be convinced that the new image is sufficiently different to the two made from the separate plates to warrant publication without annoying possible purchasers. I'll post the outcome of any experiments if I do go down that line.
I probably have enough work ready now, but I have two more plates in preparation, one a landscape inspired by Pagham Harbour, the other by a vintage fashion illustration from the 1920s. This last will be something of a different direction for me and it may still not make it into the show, although it has the potential to fit well with my series of prints on dance themes - this one for example.