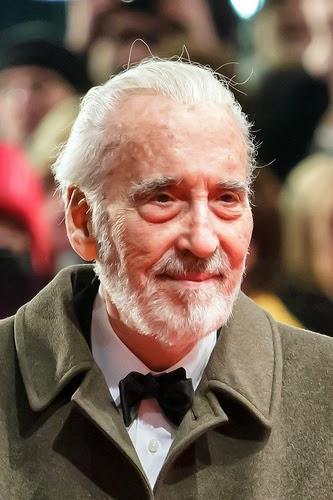 Christopher Lee b. 1922
Photo by avda-foto.
In
Sunset Boulevard
(1950), Hollywood newcomer Joe Gillis contents with Norma Desmond, a fading Hollywood star.
The film makes it clear that she is well past her prime. The plot centers on her delusions of returning to her former glory.
Just recently, I found out that I am two years older than the character Norma Desmond--and Gloria Swanson who was the same age as the character at the time of filming.  
Yes, Norma was only 50!  Don't believe me? Here is a quote from Joe:
"Norma, you're a woman of 50, now grow up. There's nothing tragic about being 50, not unless you try to be 25."
Hollywood today concurs with Joe in earnest.  Many actors 50 plus are working in television, theater and film.  Maybe the world is less ageist? Maybe the Baby Boomers are pushing the definition of "old" up by several decades thanks to their large numbers and their longevity.
For whatever the reason, he number of working actors 50 plus today is far too big for me to document here. Consequently, I want to celebrate just those working actors in their 90s.
I am only including actors who have worked in the last couple of years. For a list that includes living actors in their 90s--some retired, some working, see
this page
 and this page.
Carla Laemmle
. Born 20 October 1909.  She is currently 104 years old with two films (
The Extra; Mansion of Blood
) both coming out later this year when she will be 105.  Here is an article that highlights the fact that she is one of the last silent screen stars still working.
Ellen Albertini Dow
. Born 16 November 1913. She is currently 99 years old. Her last film
East of Acadia
was released in October of 2013 when she was 98.
Abe Vigoda
. Born 24 February 1921.  He is currently 93.  Even though his death has been
falsely reported
in 1982 by
People
and in 1987 by a news station in New Jersey, Vigoda is very much alive and working. His last project was voice work with the animated television show High School USA! in 2013 when he was 92.
Christopher Lee
.   Born 27 May 1922.  He will turn 92 next week. His last film was
The Girl from Nagasaki
released in December of 2013 when he was 91 years old.
Betty White
. Born 17 January 1922. She is currently 92.  She's starring Hot in Cleveland (having shot 91 episodes and counting). Her last film was
The Lorax
, released in March of 2012 when she was 90.
William Schallert
.  Born 6 July 1922. He is currently 91 years old. Earlier this year (2014), he played an elevator operator in one episode of
2 Broke Girls
.
Of interest is
this list
that includes names of 100 plus living actors not working as well as actors in their 80s, some still working, some retired from acting. This page also includes foreign actors. The blog owner regularly updated this page until December of 2013.
Hooray for these nonagenarians still starring on the silver screen!
Related:
Centenarians on the Rise in the US
Silver Tsunami on the Silver Screen
Films about Aging A-L