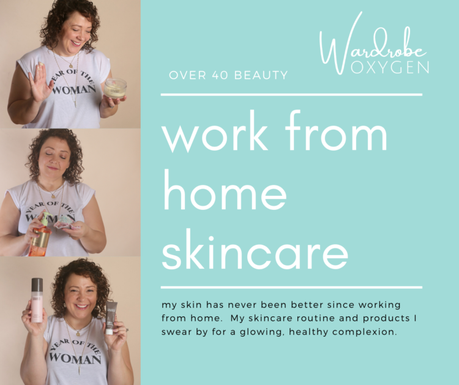 I regularly get comments on my skin, how it looks so good. I don't have Botox or any treatments or procedures, I only see a dermatologist for the occasional skin check, I don't use any prescriptions. I do look my full 45 years, but my skin is in good shape, especially since I spent more time in college in a tanning bed than in a lecture hall and I've received a strong burn from sunbathing both coasts of the US and four other countries. I got my first sunspot before 30, but didn't start caring for my skin until a decade later. I went to bed with my makeup still on most nights until I was 40. Why do I have good skin? It's not a miracle product (though I'll share some products that have been truly transforming for me), it's not because I'm getting 10 hours a sleep (honestly, what Gen X woman is? Have you read this book?). It's because I work from home. And considering a good percentage of the population right now is working from home, now is a great time to adopt new habits to revive and care for your skin and have it look better than it did years ago.
How To Get Work from Home Skin
First things first, you need to get into a routine. It's easy when working from home to wake to an email saying something needs to be taken care of immediately. When you work in an office you need to brush your teeth, fix your hair, get dressed and get to the office before taking care of that task. You have the same amount of preparation time when working from home, remember that. If you don't, it will be 11:30 and you will still be in your pajamas with Bob Dylan hair and dragon breath and wondering why your stomach is grumbling. Even if you're not leaving your house for days, a routine will keep things organized in your brain and in your life. Skincare is a routine, and if you do it like clockwork every day it becomes a part of life, not a dreaded additional task.
Drink water as soon as you wake. I sleep with a water bottle next to my bed. I chug that thing as I walk from my bed to the bathroom, challenging myself to finish it. Not only does this help me feel more awake, being hydrated is the absolute best thing for your skin.
Sweat every day. I sweat in the morning. I was going to the gym, but right now I am exercising at home. There are several ways to workout at home; my sister sent me Kim Schlag Fitness which has YouTube videos geared towards grown-ass women and you can do a lot of these workouts at home. I absolutely love my TRX; I've owned it for several years. It's not too expensive, works in small spaces (just slip it over a door), travels well and you work with your own body weight for weight training or stretching. TRX has an app and plenty of videos for inspiration. That's just two of several ways to sweat. Physical activity boosts the metabolism of cellular mitochondria which slows the thinning of skin that occurs with getting older. Sweat is the source of an antimicrobial peptide called dermcidin which protects against harmful germs like E. coli. When our body temperature rises, it increases blood flow to our skin known as vasodilation, which not only gives a glow but increases circulation keeping our skin healthy and strong. I go to the gym almost every morning for 30 minutes, but sweating can happen from a quick jog or bike ride, or even an infrared sauna. Since I started working out, my skin improved greatly.
Drink more after the workout and throughout the day. Try to get in 100 ounces of plain water a day. If you're at home, it's not as much a distraction to go to the bathroom. Consider it a perk of the work from home job and use it to your advantage by staying very hydrated.
Shower, then slather. I don't wash my face in the morning. When I wake, I wipe down my face with a toner. When I shower after my workout, I only rinse my face because it's not really dirty, it just needs the sweat rinsed off. My skin is less oily by washing it less often. After my shower, I apply more skincare than I would if I was going out in the world. When you're working from home, you can have a shiny face. Go ahead and slather it on, get that skin hydrated and happy as you sit at your laptop.
Go without makeup as often as possible. If you have a Zoom call or a webinar, you may wish to apply a full face, but working from home means you can go without makeup and let your skin breathe. I used to wear a lot of makeup to hide my bad skin, and it was hard to go without but I found in just a month's time by going without 75% of the time with a bare face my skin improved so much I went from foundation to tinted moisturizer, and from feeling confident enough to do errands barefaced (or at least just brows and mascara).
Wash your face every night without fail. If you're not cleansing your face before bed, there is no point in purchasing a single other beauty product. Not only may you have makeup on your skin, but all sorts of dirt, pollen, pollutants, and germs are on your face and you're letting them soak in when your skin is most receptive (and also transferring all that funk onto your pillowcase). I don't like face wipes for many reasons, but if it takes having a pack by your bed to wipe down before turning off the light, it's worth it to get into a routine of cleaning your face every night no matter what. I now am unable to go to sleep unless my face is properly cleansed and moisturized!
My Favorite Products
Below are the products that are tried and true favorites. I've been using each of them at least a year, all have been replaced when the first container ran out.
Colleen Rothschild Radiant Cleansing Balm. I write about this cleanser so often because it is truly revolutionary. I've bought the super pricey trendy cleansers, I've used the drugstore ones recommended by dermatologists, I've tried using items from my kitchen, and everything in between. When I tried the Colleen Rothschild Radiant Cleansing Balm, I realized how subpar the other items I tried were. They left my skin tight, they didn't clean enough so I had to do a second cleansing. Using this cleanser, I stopped having an oily nose and cheeks and super dry forehead and delicate irritated skin around my mouth. I stopped being someone who had extremely sensitive skin. I realized the other cleansers, even touted as gentle and dermatologist recommended, were stripping my skin and causing it to freak out. Since using Colleen Rothschild's Radiant Cleansing Balm I've tried other cleansers but for me, none compare and I always come back. This stuff changed my life and my skin.
Kiehl's Powerful-Strength Line-Reducing Concentrate 12.5% Vitamin C. I got my first sunspot when I was 29. I remember I was in a shop where my sister worked in college; we were visiting the owner and my sister looked at my face and said, "That brown spot wasn't always there." I looked in a mirror and there was what looked like an oversized freckle under my left eye, high on my cheekbone. Dermatologists told me they could zap it but also said it wasn't anything to worry about. So I didn't worry about it, it was part of my face. That is until last year when I noticed... it had faded dramatically. I went through trying to figure out what I did to change it, it had been over a decade on my face. I realized the past few months I had been using Kiehl's Vitamin C every other night. I continued to use it, and when a friend told me she read that it was good to put on Vitamin C before a workout because it was boosted with heat, I started putting it on before the gym. And that sunspot continued to fade to the point it hardly exists. And several other random spots on my face have also disappeared. On top of that, the mornings after I use this my skin glows. I play with lots of beauty products, but I won't stop using this; I am on my fourth bottle and it is worth every penny.
Pixi Glow Tonic. I started using Pixi Glow Tonic because I somehow ended up on the Pixi PR mailing list several years ago and received a bottle in the mail. I've played with it a bit, used it how people report on YouTube and on blogs and tried different methods for myself over the years. I have become a convert and can't imagine not using this in my skincare routine. Every morning I add some to a reusable cotton wipe and wipe down my face instead of cleansing. Anything leftover, I wipe on the tops of my hands and then under my arms (it supposedly kills the bacteria that causes body odor). If I work from home and don't wear makeup but slather on serums and creams but then I want to go out that evening, instead of washing I wipe my face with Pixi Glow Tonic and start fresh. If I take a train or plane somewhere and have to go straight from the travel to a meeting, I also use Pixi Glow Tonic to wipe down and start over. Thanks to it, I have soft skin that is more even, and armpits that are darn patootin' gorgeous without the red bumps and pigmentation I've dealt with for decades.
Colleen Rothschild Retinol Supreme Night Oil. I've written a love letter to this product before and I continue to love it. I try new products all the time for this job and each time one causes me irritation or breakouts I go back to Colleen Rothschild's Retinol Supreme Night Oil and my skin is so thankful. It has the power of retinol while also being gentle and hydrating. Seriously, go read my initial post for all my raving!
Colleen Rothschild Extreme Recovery Cream. In the winter my skin gets dry, but most thick creams cause me to break out. This cream is thick but not greasy, absorbs beautifully, and has never given me a zit. In the summer, it's my night cream; in the winter it's my day cream too when I am working from home. If I use a new product that causes irritation or sensitivity, I use Colleen Rothschild Extreme Recovery Cream to get my skin happy again.

Turn on your JavaScript to view content
My Work from Home Morning Skincare Routine
In the morning I wipe down with Pixi Glow Tonic and then brush my teeth. By the time I am finished with my teeth, my face is dry and I apply the Kiehl's Vitamin C and then do a workout. When I am finished, I shower. I don't wash my face in the shower, I rinse it. Once or twice a week though I use the Colleen Rothschild Micro-Mineral Resurfacing Scrub. My husband also loves this, we keep it in the shower.
After my shower, I apply eye cream (right now I using Colleen Rothschild), and then a serum or treatment (this is where I try out a lot of new products though I often go to reliables like Colleen Rothschild Age Renewal Super Serum or REN Keep Young and Beautiful) and then Colleen Rothschild Extreme Recovery Cream. Sometimes I put a bit of oil over it.
My Evening Routine
I wash my face with Colleen Rothschild Radiant Cleansing Balm. It will come off with any temperature of water, but I like the feeling of putting a hot washcloth (or one of their muslin cloths) on my face and letting it sit there and steam until it gets cool and then wipe off the cleanser. However, it takes a long time, especially in the winter, to run water to get it hot and that's not cool. Last year I treated myself to one of those mini makeup fridges but it also can be hot. So I wet washcloths and roll them up and stack them in the mini-fridge but set it to warm. I take a cloth and add some lavender essential oil to it and put it in the door so it lightly fragrances all the washcloths so I have damp hot washcloths at the ready without running the tap for two minutes.
I then apply eye cream (right now it's this retinol one from Olay), a treatment (I vary between Kiehl's Vitamin C, Colleen Rothschild Retinol Oil, and whatever product I'm currently testing), then Kiehl's Midnight Recovery Concentrate (I don't know if this stuff is special but I love the smell and a little goes a long way and it doesn't cause breakouts), and then over it Colleen Rothschild Extreme Recovery Cream.
Once at my bed, I apply lip balm, hand cream, and then I take organic almond oil and apply it to my arms, elbows, shoulders, neck, and décolleté.


Turn on your JavaScript to view content
What About Masks, Devices, and Accessories?
Over the years I have bought jade and ice and stainless rollers, NuFACE devices, and plenty of mud, sheet, snail, sleep, and other masks. To be honest, I never keep up with them so I stopped trying. You can read my brutally honest NuFACE review; I do have this face roller because I like how I can sanitize it (I've put it in the dishwasher) but I'm lucky to remember to do it once a month. I do have a few masks (like this one is a fave when I want a hydration boost and this one I've been using for years for when my skin just looks tired and raggedy), but I'm lucky to do one a month so I choose to make my gift with purchase or samples from beauty companies to be masks so I am not out a lot of money for a tube or jar collecting dust.
I do shave my face, not just for the random chin hair that pops up overnight once you turn 40, but also for a smoother face in general. You can read more about how I shave my face, and I use these little shavers. I do some quick swipes every few days and then once a month or so I'll do a more careful shave. It does not grow in spiky or darker!
I sleep on a silk pillowcase (this one to be specific on one pillow and my second pillow is from NIGHT which comes with a silk pillowcase) which helps prevent creases while also preventing my hair from frizzing.
My Favorite Masks, Gadgets, and Accessories:

In Summary...
A major perk to working from home is the ability to care for your skin. More hydration, less makeup, fewer pollutants sticking to your face, fewer UV rays shining on you through the car or bus window. The ability to do a mask or add another serum in the middle of the day. Access to a bathroom - YOUR bathroom - so you can stay properly hydrated. Keep a routine, not just for your sanity, but also for your skin. And be sure to wash your hands regularly, wipe down your laptop and/or mouse and try to not touch your face.
If you have products you've used and don't work for you, consider donating them to Project Beauty Share. It's an organization that provides personal hygiene, cosmetics, and beauty products to non-profit organizations that serve women and families overcoming abuse, addiction, homelessness, and poverty to help restore hope and dignity in their lives. I wrote about it in this post, but you can learn more about Project Beauty Share on their website.
Shop the Post: