n. Wis-dom: 1. The ability to discern or judge what is true, right, or lasting; insight.
I have always been interested in what may be called 'wisdom', that level beyond pure knowledge where theory and practice meet, where we are tried and tested and require something more flexible, and often more paradoxical, than rules and facts. I suppose that is why I instinctually followed the path of literature through my career. Stories are the place where we dare to have an overview of existence in all its richness and complexity, it's the place where we find the courage to face things as they really are, rather than as we would like them to be (although there's plenty of wish fulfillment on offer – it depends which books you read, of course). The best ones, for me, are those that roll up their sleeves and get down to the business of living in all its foolish, tragic, serious, comical, magical and desperate moments. The more a book is in touch with deeper reality, the more I like it.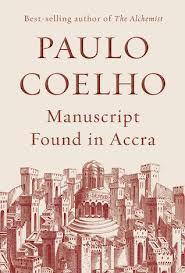 When I was offered Paulo Coelho's latest book to review, I was very curious to do so. I'd never before read the old Brazilian man of wisdom, although like everyone else in the world, I'd heard of The Alchemist, his second novel, which has become one of the best-selling books in history, over 30 million copies in 65 different countries. Coelho grew up wanting to be a writer but his parents strenuously resisted – so strenuously, in fact, that they had him committed to a mental institution for the social crimes of introversion and refusing to follow a conventional path. Coelho later remarked: 'It wasn't that they wanted to hurt me, but they didn't know what to do… They did not do that to destroy me, they did that to save me.' He ran away three times before finally being released at the age of 20. Bowing to his parents' wishes, he enrolled in law school and lasted a year before dropping out and becoming a songwriter. Iin 1974 he ended up in jail, arrested for 'subversion' by the ruling military government who didn't like his left-wing lyrics. It wasn't until he completed the pilgrimate to Santiago de Compostela in 1986 that he had a spiritual awakening, and the following year he wrote The Alchemist. In other words, he has impeccable credentials for talking about following one's dreams, forgiving others, and the necessity of learning persistence, tolerance and forgiveness.
If I'm counting right, Manuscript Found In Accra is his 30th book. It's set in Jerusalem in 1099, when the city is under siege and awaiting the invasion of the crusaders who are camped outside the city walls. Inside, the Jews, Muslims and Christians have gathered together to hear the teachings of the Copt, a wise old Greek who is something of a man of mystery. The task before them, he tells his audience, is to bear witness to the essential questions of life as it is lived, the daily difficulties the people face, in order to leave a record for generations to come. Generations who, he assumes, will not differ that much from the people surrounding him now. The book is then arranged as a series of responses to the questions he is asked; initially questions about war, struggle and defeat, but soon broader questions about the nature of beauty, love, success, elegance and so on.
It's a pretty desultory set-up for a compilation of distilled wisdom from Coelho, but even so, the answers have the compassion, integrity and gentleness of prayers. And whilst there is nothing to truly surprise here, not if you have a passing knowledge of this sort of thinking, the touching poignancy of wisdom never fails to lend grace and insight to every page. This isn't a book to pick up if you are feeling brash and defensive, and it's not for those who use arrogance or superciliousness to combat mundane, everyday fear. It's a book about opening up the heart to every shade and color of emotion, to accepting the cruelty and hardship of life in the knowledge that it has its place in the great scheme of things, and acknowledging what we can do, every day, to make the best of what we have. It's a book designed to recalibrate our inner, spiritual compasses, reminding us to pursue what makes us feel enthusiastic, to remain loyal to our goals and our friends, to fall back on discipline when vigor and optimism fail us, and to rest when we need to, in order to use the gift of time for reflection. It reminds us how easy it is, on the threshold of success, to sabotage ourselves because we fear we do not deserve the good things of life. It reminds us that anxiety is an unavoidable part of life while we engage passionately with it, and that change, however frightening it may be, is a vital necessity. Above all, it reminds us to love generously, wholeheartedly, asking nothing in return whenever we can, for love puts us in touch with the best of our selves.
Your enemies are not the adversaries who were put there to test your courage. They are the cowards who were put there to test your weakness.'
Part of me feels this book is a missed opportunity. If the premise had been held to, and the focus of the book tightened to deal only with the sort of questions that really would have arisen in a population on the brink of a devastating war, and Coelho had been forced to dig deeper into his soul for the answers, it might have been a properly powerful piece of writing. But I imagine he's reached the age of venerability now, when people don't mess with what he offers them. And even so, this was surprisingly moving and insightful. If you were feeling lost and alone and uncertain, then this is the kind of book that could provide a very welcome anchor.
If you're intrigued, then here's a clip from the audio book, read by none other than Jeremy Irons…