On Mapo Bridge
Mapo Bridge, in Seoul, has an unenviable reputation. Built over the Han River just near to the financial district, it has seen 108 suicides in the past five years. Keen to avert this, the city authorities considered many options, including walls on the bridge. However, as City official Park Haung-jae said, a wall would be "just a band-aid".
Instead Samsung Life Insurance and Cheil Worldwide have funded an interactive art installation along the bridge's handrails. As people pass by, sensors trigger the display of all kinds of messages. These range from a traditional Korean greeting 'have you eaten yet' to bizarre facts 'most gorillas have blood type B' to the more obviously motivational 'the best is yet to come'. The phrases have been carefully selected by a panel of psychological advisers to help those in a suicidal frame of mind. There is also an image zone featuring the statue below ' just one more time' and other artworks.
Obviously, it is hoped that the people will visit the bridge to see the installation, rather than for other, more sinister purposes. Even those who do come bent on self-destruction may find that the words and images give them pause for thought. In one of the world's most technologically advanced cities, it may be that words are still the strongest preventative medicine of all.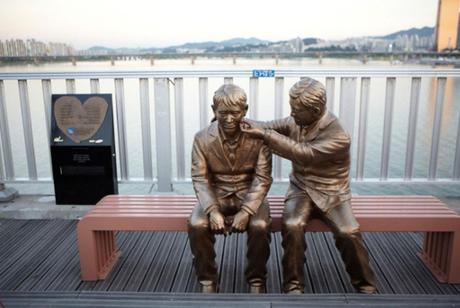 Image: adage.com CLICK for larger image